TURRICAN 2009 MetalMedley
Arranged by:
XxDUSTYxX (act)

Veteran

Member:
XxDUSTYxX (member)
Original composer:
Chris Hülsbeck
Release date:
13/01/2009
All-Time rank:
180.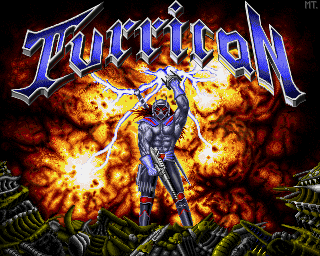 TURRICAN 2009 (METAL MEDLEY)

At first: HAPPY NEW YEAR, FOLKS!!!
I've scarcely seen you in 2008 because of my new job, but it's high time to grab my guitar again and compose another remix.
As many of you I do have great respect for Chris Hülsbeck and I bow to his talent as musician.  A few weeks ago I came up with the idea to do an up-tempo remix including all my favorurite Turrican melodies - it's just a classic! Sure thing: I realized there are MANY Turrican-Remixes out there. Still! I tried to do something completely different. So weeks of working, building, enthusiasm and dispair passed...this time the drums kick more butt and I used 2 different amplifier-tops and cabinets for some earth-quaking rhythm-guitars.
Enjoy!

XxDUSTYxX
edit: Check out my remastered Version on youtube, too: www.youtube.com/watch?v=IdOrXRTy6ms
useful links (english & german):

TURRICAN
Chris Hülsbeck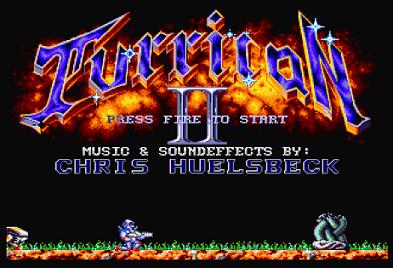 Hits - 5348 overall
---
Reviews
No reviews available. Make your vote and be the first to submit a review!

---

Dr Future shouts:
Yeah, some metal. Great task to bring all this different tracks together. Not the world's best remix ever, but I quite like it.

daXX shouts:
XxDUSTYxX is my new guitar hero! And for that good Medley you'll get this time the RED one! Cheers!:)

Jim Power shouts:
It may not be perfect, but this one definitely ROCKS!!!

am-fm shouts:
Yay, this is hot stuff ;) Love it!!

MORBID shouts:
Your best remix so far! It blew me away, man!

prowler shouts:
I'm sure it's good guitarplaying, but metal's never been my fav...

ryrynz shouts:
Not bad, drums are way too fast.. And the guitar doesnt have enough passion to truely express the awesomeness of Turrican. The whole dynamic has changed, the level 1 tune near the end sounds good but again... Too fast man.. Good job overall.

modi shouts:
Jehaa

GlenBenton shouts:
Can't stop listening to this one! Outstanding job! You've made my day, XxDUSTYxX!

Lane shouts:
Yeaaah!!! Metal to the people. Hopefully there will be one with real instruments some day... Not really perfect as a mix, but still gets my two thumbs up because of trying it a different way!

cydonian shouts:
You should listen to all Last Ninja songs first! Music should be for relaxing! Metal is for dummies!

Supergrobi123 shouts:
@cydonian: Last Ninja? You've posted for the wrong remix! Btw: Great effort and guitar-skills!

celina w shouts:
Wowwwwwwww

Mister Ghostie shouts:
A very enjoyable remix and some great guitar work - I can imagine how much fun you must have had making this one!

infamous shouts:
Shades of machinae here, its good but production is a little meh, some of it doesnt seem to fit, guitar work is spot on though

Rhino shouts:
Not to my taste, but great nonetheless.

lukosch shouts:
WOOOW! Just for itself it's a hot headshaker. But compared with any other RMXs of the holy Chris' masterpieces I ever heard this one is the most MINDBLASTING one! I like it! Cool work, guys!

Chainsaw shouts:
Yeah, this rocks. Very great Turrican Metal Mix

Pedro-Ariz shouts:
It's good, but it's not one of my favourites. Despite that, congrats!

oxygen shouts:
Wow!!! What a great composition :-)

Nebdar shouts:
Very good track but for me it need some rework in the studio, cleaning or sharpening the sound, a great material that needs to be polished

Byproduct shouts:
I can't decide between good and very good. :p Impressive effort with the guitars, different tunes brought together really well, but definitely needs a studio session to improve the sound.

SarahKreuz shouts:
YESCH!!! Wimps and Posers leave the hall. XD

Amok shouts:
Great effort. I love it.

Snake1 shouts:
Oh my gosh! Really hard-rockin stuff and fantastic riffing! 3:38 to 4:23 is your best guitarpart ever!

JustPhreak shouts:
I didn't think Turrican could be axed so tightly. Excellent guitars!

Hamlet shouts:
I like the guitar work and the melodies - but that Super Mario (? ) sound sample catapulted the serious atmosphere back to Nerd's Kindergarten.

Kate Eternal shouts:
Kudos! You've put a great deal of work into this remix!

Duncan Demerodt shouts:
That R O C K S!!!

john4p shouts:
Great metley! Just a bit more oomph and it would've been a red one.

MatrixRevolution shouts:
Not my music...
---
Current Rating
85% (58 votes)


Distribution:

25

11

17

4

1