Latest news
05/02/2016
Scheduled to 6th February, 20:00h CET
It's that time of the year when we present the voted winners in the C64 and Amiga remixing scene. Lots of statistics and other nice mumbo-jumbo for the first time aired from the U.S.
There will be a joint broadcast of scenesat.com and slayradio.org, so tune in to either station. You don't wanna miss this!
---
20/09/2015

The recent album ReLive by the SIDrip Alliance is now fully listed at Remix64. That means you can now go and listen to the tracks and leave your votes here at Remix64.com. This is a nice way to give something back to the artists, so head over to the album page.
The album is available as free download  on their homepage, and if you're still not convinced to grab your copy, read the review by LaLa.
---
17/08/2015

During AROK Party 2015, SIDrip released a free remix album called ReLive. As the title tells it is a live-in-studio record. If you are into remixes played by real instruments, check this out.

Submitted by NecroPolo

SIDrip home

bandcamp

soundcloud
---

News archive...
Events
Forum
Live Broadcasting
DJ Podcasts
News & Blogs
Reviews
Listening Recommendation


Loopz (Radiowellen Mix)
Arranged by ifadeo
The fanboy I am, this is my current favourite of ifadeos works. The remixer follows the original SID song fairly accurately I feel, but makes a bold and rather special instrument substitution. He manages to catch the same general sound perfectly however, and ends up with a song that by far surpasses it's source material in richness and worthyness. I've listened to the original SID, but alas the song is from after I left the C64 for greener pastures. Therefore it doesn't hold any nostalgic value. If you at all value ambient electronica, with a small pinch of 80s retro sound to it - and this is why we come here anyways - do by all means do yourself a favour and listen to this piece at least once.

Review by immacolata
Random review


Zak Mcommando Kracken
Arranged by Puffy64
A remix between ZakMcKraken and Commando ? At first I was scepticalness. I thought a mix between 2 sids which are so different cannot be good.
But the song is one of my favourits Puffy songs, like c64audio sayed, it sounds really like an 80er tv theme.
Review by monty_mole
Latest Review


Acid Burgher
Arranged by Isacco Garcia Peveri
It's experimental, it's hard electronics & it kind of reminds me of those little tune links that depeche mode do so well. The original sid is designed to be played on the MOS 8580.
Review by drm

More reviews...
Music
Check this out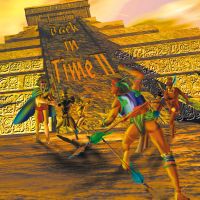 Back in Time 2
by Various Artists
Back in Time 1 broke a lot of ground, so the sequel aimed to raise the bar. The second album used some extraordinary talent such as Peter Connelly, Jogeir Liljedahl, Tonka and Danko to provide a much more varied soundscape than the first. Highlights include the beautiful orchestral version of "Forbidden Forest", the ultimate feel-good remix "Wizball 2000" and the spine-tingling "Galway is God" Rambo/Green Beret medley, as well as featuring a remastering of the first ever C64 Remix: Rob Hubbard's own "Thalamusik" from Zzap!64 issue 26. Round that off with an extended club mix of Comic Bakery and Fred Gray's own funky interpretation of his own Batman theme, and you've got a CD which still stands the test of time today.

Check it out...