Paperboy Highscore (Christmas Edit)
Arranged by:
CZ Tunes (act)

Veteran

Member:
cz_tunes (member)
Original composer:
Mark Cooksey
Tune length:

2:50

Release date:
05/12/2009
All-Time rank:
688.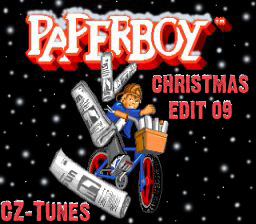 Hits - 1881 overall
---
Reviews
No reviews available. Make your vote and be the first to submit a review!

---

Mordi shouts:
Outstanding intro. Nice and cozy mix. A very christmas-y tune!=)

vurtx shouts:
Its like a well made Christmas Pudding - its got all the right ingredients :) the pads seem too loud to me, but everything else is excellent.

C64ever shouts:
A nice slower version of paperboy, works well!

bizarro shouts:
This was one of my favourite melodies on the c64. Thank you for this interpretation! (There are two harmony-errors in the remix though...)

knotti shouts:
Toll gemacht haette nur noch etwas länger ausfallen können :) Very nice

NecroPolo shouts:
Haha, nice :) Not exactly my kind of stuff but kudos for the idea behind - and have a merry X-mas, too! :) Absolutely it's among your better releases.

condor shouts:
Heh, I like it really, but it's not everyday listen material.

Amok shouts:
I just love this stuff... :D

Metal shouts:
Nice and cute - almost too cute, but nice.

chilli_uk shouts:
Christian, Sorry I havent been in touch much recently a lot going on health wise but I love this - Amazing! Happy Xmas my friend

LaLa shouts:
What a timely release! Short but sweet, like a candy cane.

komet shouts:
I like the christmas theme, and the melody is as emotional as in the original. What I don't really care for is that the chord changes seem to "jumpy".

nicodaemus shouts:
Nice. One question: this santa of yours, does he do wrestling or build motorbikes when he's not busy on the north pole? And he must be suffering from chronic back-pains since his "ho ho ho" sounds very forced. :P Good one, though.

Melaure shouts:
Nice and good in december!

Chainsaw shouts:
Very great Christmas version of a very great tune. Thank you very much for this!!!

omoroca shouts:
I assume this tune is meant to be funny. But I find it too cheesy. Technically Ok, though!
---
Current Rating
83% (28 votes)


Distribution:

7

14

6

1