Superseghe dell'Amore e Citofono (For Yer Heart)
Arranged by:
DHS

Veteran

Members:
DHS, Dr.Fikalover
Original composer:
Dejan Subotin (DaFunk)
Tune length:

7:16

Release date:
29/04/2010
All-Time rank:
144.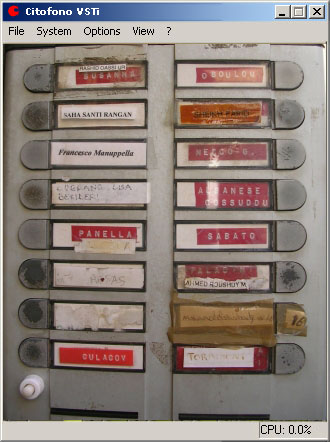 Le Superseghe dell'Amore, si apriranno in questo pad,
il loro suono travolgente, stilema della trance,
accompagnato dall'hi-hat e da un potente clap,
molto presto accoglieranno il suono del mio crash.


Mi dispiace se ho sbagliato, e ti ho confuso un pò,
ma in questo pezzo incasinato, fatto dal DHS,
canto io che son svedese, e non so che sto a dì,
ora arriva anche il SID e il Citofono.
Pure poetry....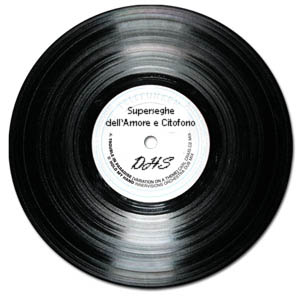 Hits - 3866 overall
---
Reviews
No reviews available. Make your vote and be the first to submit a review!

---

Ziphoid shouts:
Really neat version with beautiful singing from the Italiano Makke! Has a modern vibe with some neat Italo-disco flirtation going on! Molto bene!

bastard shouts:
DHS is back! :) Really like the subtle use of Commando sample

Amok shouts:
Superb!!!

NecroPolo shouts:
Very not my style... Well, you can't help but love such quality :) Masterfully constructed, an EXT version should be just like this.

nummer2 shouts:
Absolutly loving this more lyrics would be nice :)

XxDUSTYxX shouts:
I can't be doing with this kind of music, but brilliant nevertheless!

k_rostoen shouts:
I am quite sure this tune will get some rotation on my playlist. Cool stuff!

Nordik shouts:
Delicate, with clear references to italo. Nice!

slaygon shouts:
Absolutely brilliant return of DHS! Makke delivers a kick-ass melody vocal wise, as always, but somehow the vox clash with what you would expect to hear, apart from the latter part of the song where they are vocoded. Very close to a red face!

Razmo shouts:
Good and well produced music as usual from DHS... Nothing exeptional, just the usual unz, but it deserves an orange anyway. I really do not like the vocals though, as they don't sound authentical (too much accent).

C64.COM shouts:
DHS is GOD! God of all pisellones! And this modern italo tunage he's crafted. Carlo, you need to help me get the same sounds as 02:11 and onwards. Killer! (And I need to impress my girl, haha!)

nettuno shouts:
I hate house, techno and similar "unz unz unz" music.

kjetiln shouts:
Love the vocoder vocals! Might not be played at clubs, but a great and groovy track indeed! Perfect production!

Spite shouts:
One of the greatest song released so far this year! Waiting for the tune that will top this, cause it'll be awesome!

Hamlet shouts:
Generic ktichen mixer goes for it again. Who set all those kitchen appliances free?

omoroca shouts:
Great stuff! Added to my collection.

carpii shouts:
Awesome. DHS owns my world

Caboose shouts:
This is Dafunk quality! DAFUNK WHERE ARE YOU! I miss you!

Mayhem shouts:
This track has just grown on me over the years!
---
Current Rating
92% (45 votes)


Distribution:

25

11

4

2

2

1