Zoids (feat. o2)
Arranged by:
Visa Röster (act)

Remixer

Member:
Visa Röster (member)
Original composer:
Rob Hubbard
Tune length:

6:17

Release date:
06/12/2007
All-Time rank:
44.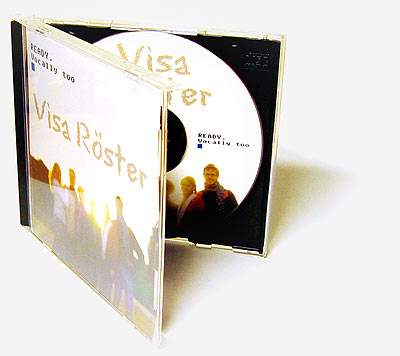 Zoids. A really complicated game that we never really got the hang of. The pleasure, instead, came from listening to the game music, a wonderful cover by Rob Hubbard, to which we haven't heard the original. But, who needs the original when the cover is so fantastic?
Carsten 'o2' did the synth background to this track, you'll probably recognize some parts of it if you happen to find one of his remixes of Zoids, he's done a couple of them. This one enhanced with voices by Visa Röster.
If you like this, there's more to find on the CD "READY. Vocally too" by Visa Röster. 18 Commodore 64 tracks, remixed with the lovely voices of Swedish a cappella group Visa Röster. Read more about it at Visa Röster's homepage at
http://www.livet.se/visa
.
Visa Röster are: Hanna Kappelin, Karin Öjehagen, Elsa Persson, Sofia Åberg, Johannes Lindén and Pex 'Mahoney' Tufvesson.
We hope you'll like this song. We had loads of fun making it. Enjoy! / Visa Röster
Hits - 3832 overall
---
Reviews
REVIEW BY SadBunny (17/06/2017)

Beautiful slow flowing etherial score. To me, a perfect fit for things like nightly motorcycle rides and studying. I don't actually know the original, so no nostalgia factor for me. But the singing is beautiful and the score is simple and subtle.

| | |
| --- | --- |
| Technical Impression: | |
| Artistic Impression: | |
| Nostalgic Impression: | |
| Overall: | |
---

klosterkatten shouts:
Amazing as usual by Visa Röster, I got nothing to complain about on this one!

infamous shouts:
Still want to hear them "sing" but o2's contribution to the background flies this up from an orange to a red.. Nice to see him still around.

Caboose shouts:
Nice! And I agree with infamous.

nicodaemus shouts:
Flawless imo

radulescu shouts:
I love it when the singing talents of VR gets coupled with extraordinary remixers. Ace! It's quite old though (from their 2nd album), I wish they'd make it a trilogy and record a new one.

aero shouts:
I haven't shivered from the beautiness of a song for a long time, thank you!

LaLa shouts:
This is awesome. Period.

styxdaniel shouts:
Sorry, can't hear the 'AH-AH-AH' anymore

bratac shouts:
Very good indeed!

Scyphe shouts:
Very very nice, and beatiful vocals as always.

Razmo shouts:
I must say that it's a very fine piece indeed... The only thing that put it down a tiny bit is, that I've heard this in a like version from O2 before, and also I'm a bit tired of the same aaah-uuuh vocals time and time again.

prowler shouts:
Good work, but my personal opinion is that it's time for Visa Röster to evolve...

Waz shouts:
As good as it sounds, I think it's time for Visa Röster to evolve a bit more from "oohs" and "aahs" in the backing. Glad to see I'm not the only one who feels like this.

Subzero shouts:
Wow, its simple, but so effective which makes it brilliant :)

boessu shouts:
Zoids as it is thought.

snorski shouts:
Gorgeous... Nough said.....

brix shouts:
I like it, but I guess it's too much singing - the sound is really just background. But this one just got me an idea on how cool it could be if Visa Röster vocals would meet the outstanding strong sound of Glyn R. Brown.. Stlll a good one from o2.

omoroca shouts:
Being almost as good as their "Thrust", Visa Röster's version of Zoids is the very, very best one (no other version even comes close) I've ever heard. Not added to my collection bc I own the CDs.;-)

eliot shouts:
Very nice... But lyrics would have been better...

prq shouts:
Very good mix of sounds

Nebdar shouts:
Nice work, smooth and cute one

Kaitain shouts:
This is just phenomenal.

germantaz shouts:
Materpiece. I love it.

RetroMax shouts:
Epic :D

truebaba shouts:
That is superb.. Congrat.. Keep working in such a quality, made my day when I first heared it kweed

NecroPolo shouts:
Great piece. I don't need lyrics with such a wonderful voice. It tells books.

SadBunny shouts:
Beautiful, etherial, perfect concentration music!
---
Current Rating
93% (54 votes)


Distribution:

31

14

3

4

2