Last Ninja 2 vs Ninja Remix - what's the deal?
It seems a bit odd that System 3 put new music into Ninja Remix when the Last Ninja 2 music was so well regarded.
Last Ninja 2 was a major smash. And I mean major. 
So the time came for System 3 to release it on cartridge (enhancing it for tape and disk as well), they had a good idea: let's put in an intro animation using the extra memory.
Unfortunately for them, they needed new music for the intro animation, and Matt Gray had left System 3 for pastures new.
So, Reyn Ouwehand of Maniacs of Noise, the new darlings of game music, stepped into Matt's shoes.
But what to do about all the old tracks? In a game like Last Ninja 2 there's no room for two music drivers, and Reyn couldn't work in Matt's driver (though they managed to squeeze Antony Lees' driver into the intro!)
The only alternative was to rewrite the soundtrack. And, in the process, remove some of the youthful copyright infringements Matt had enthusiastically peppered the original soundtrack with.
So, how did they do it? Let's consider...
Loading tunes
Last Ninja 1 and Last Ninja 2 were as known for their loading tunes as their in-game tunes. So Ninja Remix had a lot to live up to.
Alas, Ninja remix doesn't have separate loading tunes: while a level loads, it plays the in-game music of the level you're loading. Boo! *sniff*
Animated Intro
Antony Lees, lost hero of SID music, makes an appearance here with the spooky The Dungeons from Last Ninja 1. An atmospheric start... if only this bit had been in the original Last Ninja 2!
Central Park
Interestingly, Central Park goes not to Matt Gray's original Central Park in-game, but Ben Daglish's Wastelands from the first game. Reyn produced an even more upbeat, bouncy, wibbly version than even Ben's original (and we all know how bouncy and upbeat Ben can be).
It's a great cover, with a lot of funky goodness and Last Ninja heritage, and a nice nod back for the fans... but for those in love with how Matt's gritty sound interacted with the New York setting, for me some of the atmosphere was lost.

The Street
However, as if to make amends, The Street in-game is revealed to be a cover of Matt's Central Park, though again, much bouncier than most would remember, an inevitable part of using the MoN driver.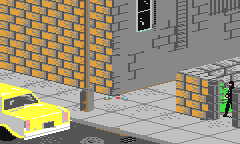 The Sewers
Straight out of left-field in this level comes a remixed version of Merry Christmas, Mr. Lawrence: this time not inspired by (like, famously, International Karate), but a direct and unapologetic cover. An odd choice for sewers, maybe, but very well done. It seems a little odd to get rid of Matt's copyright infringements and put another one in though!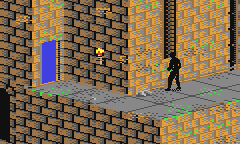 The Basement
The contrast between whatever tune this is (it sounds like it's covering something, but I'm damned if I know what), and the original Basement tune in LN2  is quite marked, making the game around 300% happier.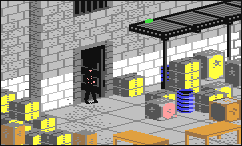 The Office
Office-music is a generally unappreciated genre, so it was interesting to see what Reyn came up with here. And, administratively, he shuffled some notes around and knocked off at 5 having remixed Last Ninja Wastelands again, adding a Follinesque riff here and there. The gritty office life is not quite so gritty now.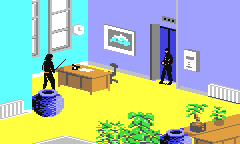 The Mansion/The Final Battle
Quite a moving, romantic and epic tune, in quite a fighty place!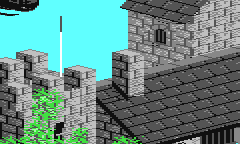 Conclusion 
It's amazing the atmosphere music gives a game, and this game is a lesson in what happens if you completely change a game's music. The whole experience is lighter and poppier. That's a whole new New York, but it's not the one Matt Gray had in mind!
In many ways, it's good LN Remix exists, because it's extra art, and because it was one of the first steps in birthing Reyn Ouwehand - musical amazingness.
And, thanks to history, you can have it either way. And that has to be good.
Thanks to Kai Spitzley of the Ninja Archives for the screenshots and resources!
- Chris Abbott