vosla
Member Profile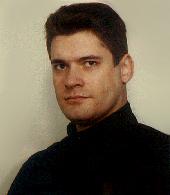 Handle:
vosla
Contact:
Location:
Germany
Joined Remix64:
April 2002
Voting profile:





lightbulb_outlineLearn more about the voting system
About me
Uh! What should I say...

I joined the ranks of C64-madness 1984.
Never quite recovered from that.

Who is it?

Nobody you should know. I did some grafix for C64 under the name of "Bonvilotti" and "Caputnic Designs 131" but the stuff is lost forever it seems. Whoever finds some of 'em pics:
Please contact me!

Plans for the future...

I would like to do some fun vocal remixes...got to gather some buddies for it...and some decent machinery to merge all into something i could dare to upload...

(Btw.: The pic was taken for a starwars convention, wearing an imperial captain's uniform, insignia removed.)

UPDATE: Seems I am pretty busy with getting a job, so the world is spared from my petty attempts in remixing for some time to come.