Remixer Of The Year Awards Voting 2021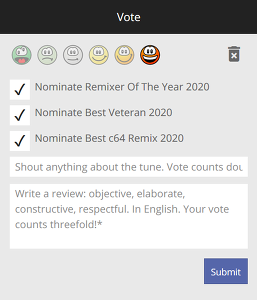 Did you know? You can also nominate artists and tracks directly from the voting box.
How to?
Vote for the best of each category. The lists are unlimited, and they extend as you add entries. During the year you might stumble upon more and more candidates you think worthy for this list - you can return to this page to supplement/review your votes anytime. All entries receive equal scores, so the list order does not matter. This was different before 2015.

Entering text into the forms will drop-down a lookup list. This will help you find your desired mix or arranger promptly. Choosing your entry directly from the drop-down will also make sure that your entry is valid. Valid entries are marked 'ok', invalid entries are marked '?' and do not go into the results. Use the icons to delete an entry or to move it up and down in the list. Note that voting requires that you have JavaScript enabled.

Voting will be available until Sunday, 23rd January 2022
(45 days, 19 hours and 25 minutes left for voting)
---
Remixer Of The Year Voting
Info
If you are uncertain about your choice, you might want to browse the charts pages:

Remix.Kwed.Org Charts 2021

AmigaRemix Charts 2021

Scene Albums Charts 2021
Additionally, the table below shows all arrangers who have released a remix in 2021, and indicates if it might be a candidate for Best Newcomer/Veteran.
Badge
Act
Releases
2021
Platform
▼ Average

Veteran

Tomsk
1
96%

Veteran

Glyn R Brown
3
95%

Newcomer

Jogeir
1
94%

Specialist

LukHash
1
94%

Specialist

Mordi
1
94%

Newcomer

Wallstrom & Friends
1
93%

Adept

SIDNIFY
2
93%

Veteran

XxDUSTYxX
2
93%

Specialist

Slaygon
4
92%

Veteran

Kjetiln
3
91%

Specialist

Peter Clarke
1
90%

Newcomer

Sami Seppä (Rock)
5
90%

Specialist

NecroPolo
1
89%

Veteran

Tim Forsyth
7
89%

Veteran

LaLa
2
89%

Veteran

Romeo Knight
1
88%

Specialist

SkyMarshall Arts
1
88%

Veteran

Dr Future
12
88%

Veteran

Solarstriker
1
87%

Remixer

Eivind Sommersten
8
87%

Specialist

TNT
1
86%

Newcomer

Skaven252
2
86%

Specialist

Johan Andersson
12
86%

Remixer

Ctrl-Z
2
85%

Remixer

Guru Mediator
1
85%

Specialist

hyperunknown
2
85%

Veteran

Makke
13
85%

Newcomer

Kaktus
6
85%

Remixer

JLD
6
84%

Newcomer

ziona & Vincenzo
1
84%

Remixer

Linus
5
84%

Veteran

Monty
2
84%

Veteran

Dees
1
83%

Veteran

DMC
2
83%

Veteran

BeeZerk
5
82%

Specialist

Dj Space
6
82%

Newcomer

Tamas Kenez
2
82%

Veteran

Wobbler
4
82%

Adept

Imbehiiri (PsyMi)
1
81%

Remixer

Magnar
1
81%

Specialist

NexT
1
81%

Veteran

Teo
1
81%

Specialist

Murdock
2
81%

Newcomer

Back in Bytes
1
79%

Newcomer

Marton Bencze
1
79%

Newcomer

TweakerRay
1
79%

Specialist

Xenox
1
79%

Adept

MASTER BOOT RECORD
1
78%

Newcomer

Magical Sound Shower 64
5
78%

Remixer

marzl
1
76%

Remixer

AxsFin
3
76%

Specialist

FZN
1
74%

Veteran

Joe [Stainless Steel] Barwick
2
74%

Newcomer

LDA
2
74%

Veteran

Martin Dodd
2
74%

Specialist

Aknotronic
1
73%

Newcomer

Mozolowski
1
71%

Newcomer

Octupus Tea
1
71%

Specialist

SoundLogic
7
71%

Specialist

Phrygian
11
71%

Specialist

Underphil
1
70%

Newcomer

0supereg0
19
70%

Newcomer

Andi Diät
1
68%

Newcomer

Ramjet
1
68%

Newcomer

GEC
3
67%

Veteran

OJ Oscillation
1
67%

Adept

Fabio Marinelli
6
67%

Newcomer

LucasCommodore
1
66%

Newcomer

Diatonator
1
65%

Newcomer

Steve Collins
1
65%

Adept

Colmarr
5
65%

Newcomer

Aarrow
2
62%

Newcomer

Pakz
7
62%

Adept

Curt Cool
1
61%

Remixer

JB Xplodingfist
3
60%

Newcomer

Kopsi
1
58%

Specialist

Rodolphe Bost
1
55%

Veteran

Bullboy
2
52%

Newcomer

eha
1
47%

Adept

MimiTheCat
1
46%

Remixer

Socky TheReal
2
45%

Remixer

Mitraillix
1
44%