Track info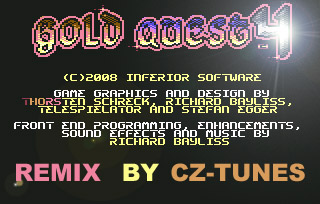 Arranged by:
Member:
Original SID:
Original composed by:
Richard Bayliss
Duration:
3:45
Released:
15/05/2009
All-Time charts position:
794
Score:

84%
Story
Hi!

Gold Quest IV is a new game by sledgie.
Music made by Richard Bayliss.
I hope you like my remix.
Have fun.
And thanks for all votes. ;)

Nice greets

CZ-Tunes



Shouts
A great pompous kind of tune, very much scene-/demo-music influented :-)
Like prowler said :)
I love this sort of remixes great work CZ
It's a technically perfectly executed, yet somewhat flat dance track. It is really nice but I miss some personal style that could set this one apart from other 12-a-dosen flat dance tracks.
Beautiful!!! Instant good mood, great production too!
Good Remix CZ Tunes.
Not bad, but I gues for my taste it sounds a bit to weak.
The mixing hurts a bit in my ears, so its only a GOOD. (CZ, erinnere mich mal daran, dass ich Dir ein paar Tricks mit Soundforge zeige... ;) Gruß, Mitch)
Great remix. Very good.
Like Chainsaw said ;) And it has that typical CZ-Style!
Great one.
Good ish
Great I like that one.
Guru Josh meets Koto! Unfortunately, this meeting is rather unspectacular! Technically brilliant but repetitive and boring!
The sort of thing Christian you do best - short chords and lovelly base - awesome as always! Greets my friend
In the average, nicely...
I nice tune. I like it a lot, but aren't there even more fat electrosounds "out there" to use in this kind of tunes?
Good stuff
Reviews
No reviews available.
Make your vote and be the first to submit a review!