D.A.Wilson - Powertrax Demo - JackDance - Hideaway Studio Remix
Track info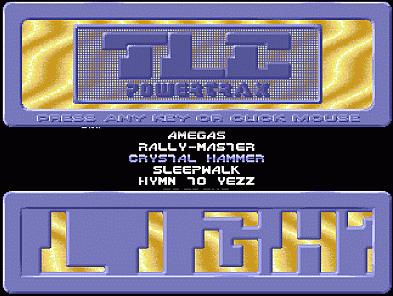 Arranged by:
Member:
Original composed by:
Karsten Obarski
Released:
23/01/2006
All-Time charts position:
958
Score:

62%
Story
One of the very first Tracker tunes ever, written by the creator of the format himself, Karsten Obarski. This classic is very typical of his early tunes.

In answer to various comments:

Jackdance was always a rather laid back track - I take on board M.A.Fs comments although sometimes it feels almost disrespectful to deviate too far from early originals which in this case was an extremely basic yet effective tune. Jackdance was one of the first 10 tracker tunes ever written afterall.
Shouts
M.A.F shouts:
Either it sounds like you couldnt be bothered that day, you create mixes that are in a similar vein to the original but try something new with them and im missing something cruicial, or its me who cant be bothered to hear the original..... What is it?

Duncan Demerodt shouts:
I´m not sure if I know the original, but I like this one. Yes, could be better, but anyway is nice done.:-)
Reviews
No reviews available.
Make your vote and be the first to submit a review!