XxDUSTYxX - Echoing 2k8 [GUITAR REMIX]
Track info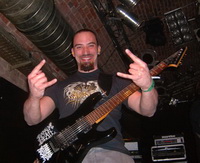 Arranged by:
Member:
Original composed by:
Released:
12/04/2008
All-Time charts position:
217
Score:

83%
Story
Echoing 2k8 GUITAR REMIX

In contrast to my previous remixes this one took me a few weeks. I said GOODBYE to my old Tracker-Editor, grabbed my guitar and borrowed a bassguit from my buddy Sascha. (THANKS ALOT, BRO!)
After adjusting my metronome to 144bpm I started recording the rhythm-guitars. I had to use the Line-Out of my PEAVEY Triple XXX instead of putting a microphone in front of my Mashall-cabinet for this, otherwise my pain-in-the-neck-neighbor would have killed me. Complete! Time for some BASS! But...oh my god: The bassguitar is fretless! After practicing a few minutes, I got used to play without frets, too. The next day I edited the Drums for hours. One day after I refused the most part of them and did a revised version with more punch. Next day: Leadguitars. I connected my KORG AX300G Effectboard to my soundcard and let my fingers fly over the fretboard. To get it more atmospheric, I added a plain keyboard-accompaniment. Then the days of mixing, re-editing and mastering passed... 'nuff said! pump up the volume and enjoy!

XxDUSTYxX
Shouts
Fair enough, but nothing special. Lacks the feeling of the original and feels more mechanical.
New style for one of my favourite tracks. IMHO the original is THE electronic track, so making this a heavy-metal remix is brave. And it works for me.
Well Done XxDUSTYxX! Very nice Guitar Style!! One of that metal remakes that works really fine for me. Only the mixing is open to improvement! BUT I LOVE IT!!
This is an excellent remake! It sticks to the original well although being a wildly different style. It's loud, brute and techinally amazing. Great guitar work in this remix!
A little bit noisy, but enjoyable... Like it
Very cool, keeps the original atmosphere as well. Soundquality could have been more "clean", but not that it matters much...
Me likes it, and I dont even like to listen to metal. Good work
Great guitar tune, it could be more smoother
Jehhaaa
Rrrrrrr what a rush!!! Great!!!:-)
Very good version
Pretty sweet. Love this tune and you do it justice.
Reviews
No reviews available.
Make your vote and be the first to submit a review!