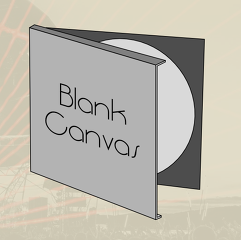 05/03/2021
A charity album has been released in aid of keeping the Retro Computer Museum afloat during Covid lockdowns. 
The fifty-one track album includes tracks by Rob Hubbard, Jeroen Tel, Allister Brimble and many other C64, Amiga, and many other Scene composers. All the tracks have generously been donated by the original artists and are fully licensed.
It is available for digital download or can be ordered for delivery on three CDs.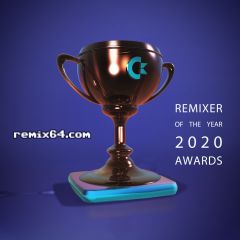 22/02/2021
ROTY 2020 awards were presented by ziona, Boz and Slaygon on 20th February 2021.The show began with some interesting stats, showing how the year boasted the most releases since 2008! The show itself marked a step-up in visual presentation, having the hosts on split screen and some kick ass rendered graphics during the music. As usual, the ROTY show was framed by a rundown of the year, recapping what remixes were popular in each month. The first award, Best Newcomer, went to Ctrl-Z.
vincenzo was honoured with the Lifetime Achievement Award for his countless contributions within the remixing scene and the demoscene, as musician and organiser. An awesome and humble guy!
Last but not least, the big winner of the night was without any doubt Peter Clarke, who managed to score four awards: both Best Amiga Remix and Best c64 Remix for his interpretation of Space Harrier. On top of that, he was awarded Best Veteran, and the big one: Remixer Of The Year.
Check out the full result lists.
Congrats to all the winners, follow-ups, and to everyone on the list! 😃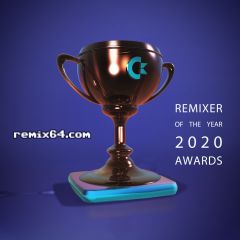 20/02/2021
The time has come to celebrate and acknowledge the remixers' work in the C64 and Amiga community by presenting the yearly Remixer of the Year Awards, as voted by the users at remix64.com.

This year it's SLAY Radio's turn to give out the awards and give you a run-down of what happened in 2020.

Last year was the most active in recent memory, with 174 c64 remixes, 48 Amiga remixes and a whopping 213 tracks over 11 albums, giving us a grand total of 435 tracks to enjoy!

So, join us as we go through some highlights of 2020 and announce the runner-ups and winners of each category!
08/02/2021
Remix News covering January 2021, courtesy of Mordi, Lea and SLAY Radio.
03/02/2021
Matt Gray has posted a preview of a new version of the Last Ninja 2 Central Park theme. Check it out at the YouTube link below!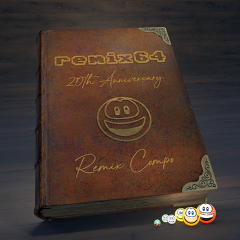 27/01/2021
Remix64.com is proud to announce the
Remix64 20th Anniversary Remix Compo
09/01/2021
Remix news for December 2020 thanks to Lea, Mordi and SLAY Radio.
31/12/2020
Another great video from their live streaming concert earlier this year!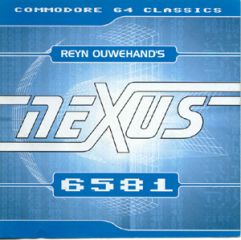 29/12/2020
Following on from our 20 year look back specials, Warren Pilkington looks back at the Nexus 6581 album. Question is, Does it stand the test of time?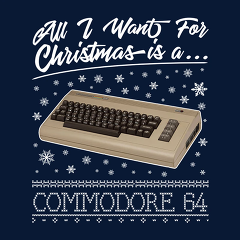 24/12/2020
In the year 2000 Jan Lund Thomsen's RKO (remix.kwed.org) was born. Finally, a resource that enabled remixers to uploaded their remixes for the world to enjoy. Before that time the remixing scene were made up of several websites spread around the internet. Finding these sites and jumping around from one to another was a painful and a somewhat chaotic experience. Over the years RKO would establish itself to be the one stop shop to get your c64 remix fix. In this Christmas editorial special we go back through the years and present the top 3 remixes voted by our readers from each year to the current day. So grab a cuppa sit back and enjoy whilst we take you on a nostalgia trip. Oh! and if you haven't voted yet on these remixes here's a chance to do so. Happy Christmas everyone.