CZ Tunes - Yie Ar Kung Fu II & I Remix
Track info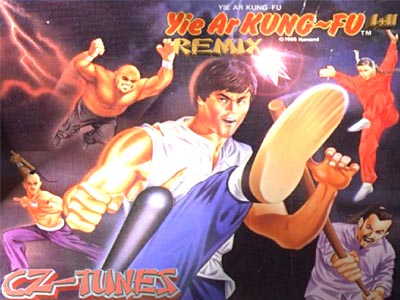 Arranged by:
Member:
Original SID:
Original composed by:
Also check out:
Duration:
4:40
Released:
09/02/2008
All-Time charts position:
1470
Score:

78%
Story
Hi there.
This is a short Yie Ar Kung Fu Medley.
I hope it sounds well. ;)
Nice greets
CZ-Tunes
Shouts
Interesting merging both 1 (i am sure Jarre will notmind) and 2 together. Well mastered and great selection of instruments - has that CZ sound!
Sounds really nice and a lovely blend of the two but will this be allowed as it's a cover?
Nice and relaxing, clear mix. I like it!
Good one!
Pros: good mixing, no real screwups, solid sound, solid instruments. Cons: pitch-sliding always hurts my ears, mixing 2 titles together hurts the nostalgia.
Pretty well mastered. Sounds very clear. A real High-Quality-Remix...
Jarre meets vangelis - your second best rmx after double dragon, I so so love this my friend - its simple yet awesome - the best combination!
Nice mix of the 2 versions.
Not my cup of tea, really.
Nice intro... Great sounds and very clear.... Top mix......
I like that synth style very much. Actually orange, but several flaws in melody and rhythm spoil this one a little bit for me. Thus "only" yellow! Put a little more work into this one and it'll be really really great.
Awesome base drum, but some of the lead sounds are thin. Mixing of the two melodies doesn't work well here, artistically it's a mistake in the arrangement.
Didn't like this one.
Hi Chris, long time no see... The merging did not work as nicely as I would have expected, but I like it anyways :-)
Pretty nice arrangement all round, although I prefer the cover parts of II as opposed to I.
Wonderful, but I would have liked this to be a Yie Ar Kung Fu II mix only. Yie Ar Kung Fu needs a different approach and set of instruments I believe...
Well done!
Nice atmosphere
Sounds cool!
Loved the intro, and the basic tune, however the constant phasing of that white noise throughout is a bit much though. Too repetitive for me.
A very good remix and with a HIGH nostalgic factor!! Thumbs up!
It starteg with boom and... Ended with chiill out remix. It isn't Kung-Fu it is Joga tune. But never mind that I like it.
Wonderful combination of I and II.
One of my fav CZ remixes - nicely mixed; very mellow. Reyn's YAKF2 has the edge though!
Reviews
No reviews available.
Make your vote and be the first to submit a review!