D.A.Wilson - Crack Of Dawn - (Faltermeyer Mix)
Track info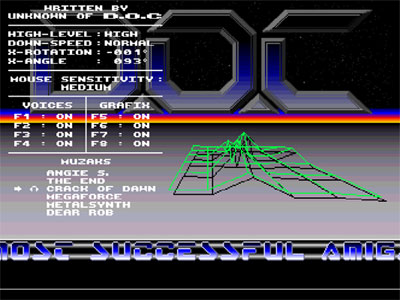 Arranged by:
Member:
Original composed by:
Romeo Knight
Released:
06/09/2008
All-Time charts position:
718
Score:

69%
Story
This is believed to be one of Romeo Knights earliest modules (in fact it is one of the earliest modules full-stop)  - it was featured in the D.O.C. Demo II from November 1988 - less than a year after the release of the original SoundTracker by Karsten Obarski.
Shouts
Average remix, some harsh sounding instruments, the mix is lacking some depth imho.
Well it's not horrid, it's a remix of the original, but it lacks anything in the area of 'exploring' and it's just too much like making a 16bit conversion for me to _like_ it.
Yeap.. Has that harold feel to it thats for sure, thats why I dont like it that much.. But the arrangement is nice and the talent apparent its just a bit too loud and brash and far too harold lol
Sorry, It couldnt catch me 'couse of the general midi rompler feeling without exciting filter twists or effects.
Intsruments don't work at all for me, and the tune never takes any interesting approach. But technically very good!
Sounds good for me, thx.:-)
Reviews
No reviews available.
Make your vote and be the first to submit a review!