SpaceTraveling (ETBJ XNT RZQZG JQDTY)
Track info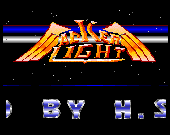 Arranged by:
Member:
Composed by:
Patrick Pose
Released:
15/01/2010
All-Time charts position:
555
Story
I really enjoy old-school tunes from Amiga...more than modern ones.
Pat has released some very good melodies on the amiga that will stay graved in my brain all my life.
Only the old guyz can understand...
http://www.youtube.com/watch?v=6btAtfAhgLw&fmt=18
Shouts
Yes. 2010 starts of with another great reemix by gibs. This man is strong! Cool song, the congas could've been lowered in sound, but who carez?
Cool Song!
Great one!
Gibs... I like your guitar skills... But this time you have a very sharp Hihat (Tamborine? ) in it... Hope you can remaster it a bit and make it little smoother.
Really good!! Thank you Patrick :)!
Well, I'll just say it became my 2nd favorite of yours! [ETBJ XNT RZQZG JQDTY! Lol]
Nice One!
Reviews
No reviews available.
Make your vote and be the first to submit a review!