Ic3m4n - Turrican (Loader)
Track info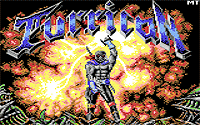 Arranged by:
Member:
Original SID:
Original composed by:
R.Vaca, C.Hülsbeck & S.Hartwig
Duration:
3:00
Released:
28/04/2008
All-Time charts position:
3918
Score:
50%
Story
Nothing special...it´s just a tune i liked a lot back then. Tried to be close to the original as possible. I did not used any "modern" drums or percussions to have a more retro-sound this time.
Critiques are always welcome.

Hope you like it !
Shouts
Not bad remix, but a quite boring tune which didn't really got better here.
Uhm, what's up with the "spacefart"-snare? I'd remove all drums and replace them with a better beat/sounds. The rest of the arrangement is okay but nothing out of the ordinary.
Nicely arranged but the sound is a bit too retro for my taste
I don't like the instrument selection, the arrangement would be okay. It has some good parts, but it's mostly only okay at best.
My humble individual comment... The c64 drums work pretty nicely together with the main lead melody. I'd say the use of other instruments, stereo image and mastering might need some rethinking. Pretty good but this one needs some hooks and punch!
Bassline sucks, arrangement is average...
Reviews
No reviews available.
Make your vote and be the first to submit a review!