Mister Ghostie - Experiment [Arranged Version]
Track info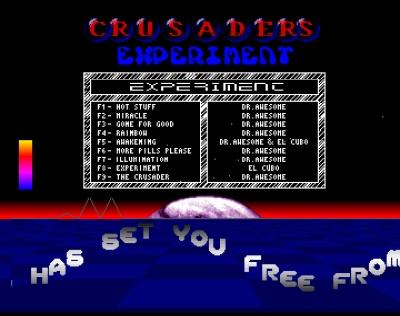 Arranged by:
Member:
Original composed by:
Released:
06/09/2008
All-Time charts position:
514
Score:

75%
Story
Experiment
Not sure if any of you here are even familiar with the original track but it featured on one of the early music disks by
Crusaders which was also called Experiment. I just really love the beautiful melodies on this one and felt that the track
was calling for some sort of orchestral arrangement - this is my attempt at it and hopefully I've done it some justice.
Listen to the original track in all its glory:
http://amp.dascene.net/downmod.php?index=24215
More info about the music disk:
http://www.classicamiga.com/content/view/4935/102
Shouts
Not bad, really not bad. Some instruments sound mechanical, but the overall quality is good. Not a Glyn, but a very good orchestral arrangement.
Nice little orchestral arrangement, works quite well too.. Good stuff
Allthough the instruments and quality are top, It could'nt dragged me into the track. Bit of a boring arrangement to me. Sorry.
As both DrF and infy have said, this is a nice track. Just a few tweaks with some of the orchestral samples and this could be a winner!
Wonderfull done. Thx!
Reviews
No reviews available.
Make your vote and be the first to submit a review!