Peter Clarke - Nemesis - The Arrival (1st Wave)
Track info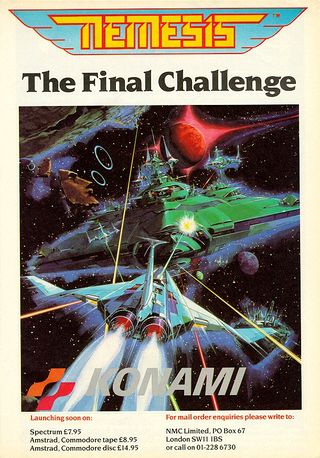 Arranged by:
Member:
Original SID:
Original composed by:
Also check out:
Duration:
2:46
Released:
22/07/2019
All-Time charts position:
477
Score:

88%
Story
So.. First off, this is just a short track, (after a while of being away and dealing with other, life-changing things).
In my early-twenties, (during the time I was working at 'Ocean' & freelance), my saturday morning ritual was a trip to the biggest games arcade in Wigan town centre and a morning spent blasting, racing & questing on the arcade machines... This game was one I never got close to completing but I must have put £100's into trying. 
The original, fantastic, Nemesis, (Gradius in the US) arcade game which was the inspiration for SOOO many sideways-scrolling shoot 'em ups had a great soundtrack and when the C64 version was released, 'Paulie Hughes' and myself rushed out from Ocean Software at lunchtime on 'release day' and bought it......
OMG! what a disappointment the music was....
It sounded like somebody, (with no clue about arranging music), had done an 'Arcade to MIDI to SID' conversion on the arcade track.. It sounded like someone picked the best 3 lines from the MIDI dump and shoved them into the C64... No waveform changes. No envelope shaping. All short notes! Simply awful!!
I was genuinely upset by it and never played the C64 version because of it. It's a game that I wished they'd asked me to do the C64 music for....
Here's a short, cinematic  re-imagining of the 1st wave....
Shouts
Great beginning
Great sci-fi opening. Wish this was longer but still a very good remix.
One of my favourite arcade games
Quite cinematic with a little cartoon feeling in it =)
Nice!
Reviews
No reviews available.
Make your vote and be the first to submit a review!