Holger Lagerfeldt (lagerfeldt)
Member Profile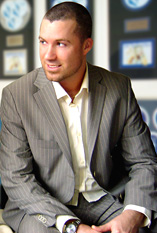 Handle:
lagerfeldt
Real name:
Holger Lagerfeldt
Homepage:
Contact:
Location:
Denmark
Born:
1974
Joined Remix64:
June 2003
Remix projects:
Voting profile:
About me
I am absolutely in love with the C64 and especially the SID!

When I was younger I made 4 hours of tape recordings with C64 music and listened to it all the time, like many other C64 fans probably did. My favourite SIDs are mostly by Jeroen Tel, Rob Hubbard and Martin Galway, but I enjoy a wide spectrum of SIDs.

Today I am a professional audio engineer, and before that a producer and songwriter. My first international hit was inspired by the music from the C64 game Dan Dare III by Jeroen Tel/Maniacs of Noise.

I most definitely owe a lot to the C64 and the fantastic pioneering composers who started it all.
Releases