Blue Angel 69 Title Remix (Chilli's Sid Mix)
Track info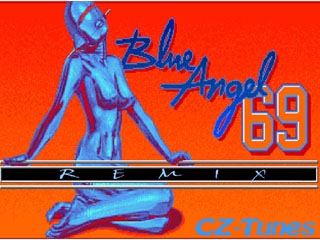 Arranged by:
Member:
Composed by:
Thomas Detert
Duration:
3:56
Released:
25/10/2006
All-Time charts position:
3060
Story
This is my latest remix.

I decided to make a C64-remix.

I had to put some SID-samples from the game into this remix, because "Chilli
UK" likes them so much. He lost his mother recently (cancer) and so I did a little
special for him, that's the reason I named it "Chilli's SID Mix".

I hope this helps to comfort him.

The sound-FX were taken from the Amiga-version of the game.

CZ-Tunes

(Thank you Eliot for the translation)
Shouts
It sounds like commercial trance of the early 2000s, because it mostly relies on the common presets of that time. But that's about it - it would require a lot more fresh ideas and inspiration to impress, sorry.
Just bored me senseless, to be fair, the original SID doesnt have that much going for it and the vocal in it is just turd on a stick
Bog standard commercial trance version based on an uninspiring SID. I can't really be impressed by this.
I can live with trance when it's done well but sorry this is just mundain and flat!
Quite repetitive and some instruments lack of real over-detuning which makes this kinda not good.
Not one of CZ-Tunes better remixes - lacks anything interesting.
The difference between good trance and bad trance seems to be a melodic hook and good production: this has neither.
I had to listen to much worse which was rated much better... But for next time I would suggest a completly different SID :)
I can dig this. Smooth and mellow, just how I like it. I love the way the theme of the tune just wafts past you. Lovely stuff.
Not being biased as it was for me - its not your best but it does rock and its really just is a tune to relax and drink too - thank you my friend
I kinda like it. It's a bit boring in the middle but the beginning and end is melodic and nice.
The arrangement reminds me of the cold metal of the blue robot lady in the game. Good! A little too slow, the whole thing, makes it boring to listen to.
Ok tune.
Loved the game and the music the mix is great reminds me (:
Reviews
No reviews available.
Make your vote and be the first to submit a review!