Sacred Stone (Gold Quest III Remix)
Track info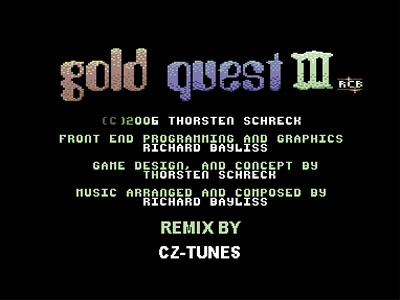 Arranged by:
Member:
Composed by:
Richard Bayliss
Duration:
3:58
Released:
10/04/2007
All-Time charts position:
1030
Story
A man named SLEDGIE had asked whether someone could not make a Remix of gold Quest III. I have myself thereupon to it decided to try it. The result can you sound yourself. I hope it please you;)
Shouts
I really like this one. Laid back trance which just takes me back to the good old days. Great!
It's not a bad effort, even if it's a bit laid back trance by numbers. At least it keeps the flow of the original!
Ahhh, love it.
I agree it is 'trance by numbers, ' still it is well mixed with balanced samples and flows nicely. Feel good stuff, which I like.:)
Lovely tune! I would rank this awesome if it wasn't for the unatural lowquality drums and somewhat too stiff piano playing :) It just doesn't sound like it's 2007.
Wow! Takes me on a journey through the world of trance. Keep it up, CZ. Give me more Commodore 64!
Hey Christian as I said I tht it was good, its not its no where near it - its lovelly and im happy to replay it time and and time again - one nice piece - one VERY SERIOUSLY NICE PIECE
Very nice idea, but technical part are -
Mixing issues! Sounds so flat. The idea is nice, but the execution could be better.
It's not bad, but it seems lo lack that something to lift it.
I always been weak for this dream-trance stuff...
Beautiful!!!!!!!!!
No problem with that, but for me there is nothing in the tune that would stand out the trancey crowd.
Reviews
No reviews available.
Make your vote and be the first to submit a review!