Mordi - Cybernoid II [feat Jennie and Kylie]
Track info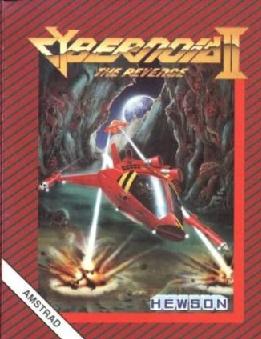 Arranged by:
Member:
Original SID:
Original composed by:
Also check out:
Duration:
6:26
Released:
20/10/2008
All-Time charts position:
179
Score:

92%
Story
(This was the best image I could find)
Big thanks to Amok, for helping with the chords! =D
Shouts
Really enjoyed this! It's a keeper for me. Nothing special to point out, but I wish the "jamming" part around 5:40 would had carried on for a couple of minutes more!!;-)
Wtf is going on with Mordi (((: another great mix love the part at 3:30
Nice punch!
Very nice, but very empty in places. A bit of work on the instrument balance would help.
Great work, mordi. Some parts are a tad unbalanced but still a really enjoyable remix.
Really nice and clean remix!
Perhaps the best thing you've done so far, really enjoyed that!
I have mixed feelings about this one. At times it's really good, other times it's too simple, too thin. Nice atmosphere, good idea, but needs a bit more polishing.
Gotta love this more than once! A shifty one; lovely transitions, cool execution, clean by simplicity and got hidden powers.. A successful flourishing experimentation! Thank you Mordi, Keep it going!
Very well performed. I sometimes get the thought that it's hard to fail when the original is a master piece. But I have learned that it's not true. The better the original, the harder to get the remix good in comparison. Your remix is really nice.
This track got me from the first second. Nice powerful bassline. Thank you for this mix.
OMFG this is beautiful, strong, amazing, emotional, great. Fantastic, Mordi.
Loved it when it was going somewhere. Wanted it to get somewhere when it wasn't. I like.
This is an amazing remix of one of my favourite tunes. Absolutely stunning Mordi.
Somehow I never got hooked on the cybernoid soundtrack. Anyway I must admit that the remix is well done.
Not very inspired but very well executed.
Bloody hell Mordi, you really are producing some great remixes. Excellent work.
It is mixed with so many different styles in whole track that it sound bad in some places
This is just great!
Damn addictive!
Many have tried and failed to remix this track, and I think this is as good as it can get. Nothing will ever beat the original, but this comes oh so close!
Really very good work.
Perfect!!!!!!!!!!!!!!!!!!!!!
Very good and faithful to the original remix. Would get red if only there were no wrong chords at 5:12.
Just came in here to give it a red one. Just rediscovered it :D
Epic sex for my ears.
Wonderful! Added to my collection.
Nice ramp up at 1. 39 the voice repetitive and overdone a bit though.
Excellent!!!
Looovely!
Best Mordi remix in my opinion.
Reviews
No reviews available.
Make your vote and be the first to submit a review!