Track info
Arranged by:
Member:
Original SID:
Original composed by:
Also check out:
Duration:
3:17
Released:
04/12/2006
All-Time charts position:
2124
Score:

73%
Story
LIIITIII! WE'RE BACK!
Ahhh, I remember it as if it were 12 years ago. Infact, somewhere in the middle of the 90's, LMan had just gave birth to our lovechild
Fröhn
and we decided on the spot we should have another one. It was a huge struggle since my brain needs some viagra now and then, but as you all can see: we finally made it!
I think we passed this tune back and forth by the score or something, adding some dough to the different genres going on in here. We have some Final Fantasy 5-injections, standard happy hardcore-bass and breaks, some noisy anger... um, Happy Tree Friends? Dunno where I got that part from at any rate...
Thanks to all Slay-listeners who dug dis at the screener("steerer" would be more fitting), good jul!
BANG BANG. BANG-BANG, BANG.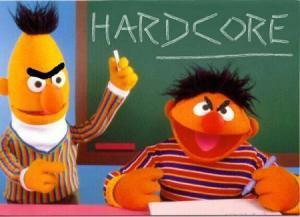 Shouts
Here come the Cheesebakers again! This is just genius!
Not my cup of tea but definately interesting, love the bit where it just spazzes out around 1:40
Something tickles me about this mix. It's interestingly done too. Can't help feel there's quite a bit of sense of humor gone into this mix even has the odd x-mas bell in it.
A very different version of Elite, that's for sure. Not quite everyone's cup of tea, but you have to give it kudos for the warmth and humour within.
Lol @ Brie!
I just love this. :) The spazzing part at 1:40 which Dan mentions is just brilliant. This makes me happy. And hardcore.... Or something.:)
Mmm. Cheese!
Hmm. Humor is good, but I don't get thiz... Too fast for me anyways.
Unzy!
Dont get it too. Dislike the whole style.
Unz unz unz unz unz xD an interesting and great little idea that works absolutely brilliant :)
Too noisy for my tastes.
Ok who gave this lot crack cocaine again. How can you take a nice simple tune and create this - with complete GENIUS - makes me Laugh - nothing short of WEIRD but OUTSTANDING! Can you speed it up a bit though please?
Not my kind of music but mostly well made. At 0:55 it really loses points. Almost average because... No Elite spirit in it.
Quite original, good arr
This works perfectly. Love the bells.
I was hoping for a cool version of "An der schönen blauen Dönau" - but this is nice too
Spazzing is my cup of tea!
Cheesy! Sounds like Mark'Oh in the mid 90's...
EDIT: Nope, this is not for the very good, I admit, I was wrong. This is REMIX!
Fine tune, but too much crap mixed in...
Crazy remix. Not the kind I expected. It has a christmas tune in it. Ok.
BANG BANG BANG BANG BANG! <3 x8 8 Scones for total Ownage!
Youve got skillz...! Like a Ridge Racer tune... WACKY
Reviews
No reviews available.
Make your vote and be the first to submit a review!