XxDUSTYxX - To be on Top - S2 [RMX2008]
Track info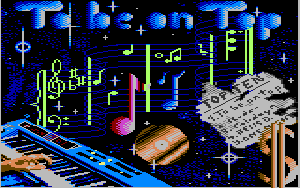 Arranged by:
Member:
Original SID:
Original composed by:
Also check out:
Duration:
2:37
Released:
22/03/2008
All-Time charts position:
1516
Score:

78%
Story
To be on Top - Subtune 2 RMX2008
========================
The Original was written by Chris Hülsbeck (1987 Rainbow Arts, Softgold)
After hours of playing I finally did the 1st place in the Highscore (Charts)!
I still love the whole Soundtrack! Just lean back and enjoy my Remix!
XxDUSTYxX
Check out these cool Links:
To be on Top (german Wikipedia)
To be on Top (lemon64)
Shouts
Different and bold, but some parts seem not to fit together too well. But most of the tunes in the game had this problem as well, so...;)
This is a really nice track. My only complaint really is a weak snare drum that doesn't fit so well with the rest of the instruments.
Nice work but I dislike the original...
I'm afraid I don't like the tune too much for some obscure reason. Sounds way too soft and a bit uninspired. I miss something special to amaze me, somehow. Can't really tell what it is, I'm sorry.
Some of the nicest instrument work I've witnessed, well arranged too.
Mixing is pretty cool and it works well!
I like this style, but the arragement could have been more solid. Not all instruments match the remix 100%, the bassline and piano saves it from a yellow.
The drums could be more powerful, the instruments a bit more punchy. I like the direction the arrangement takes, but something is missing to make it more polished.
Wow!!!
Works perfectly for me. Especially the piano is an ear-catcher (is that a word? ;) - Keep it up!
Nice choice of instruments, it all blends together quite nicely.
Better work on drums. Other instruments are good, lead is perfect.
Really nice Interpretation.
Unfortunately lacks the part where the original song really kicks off. This remix just goes on and on without getting explosive at any point. Well made though!
Ok tune. Not the best we've heard from xxDustyxx. Lacks some punch.
Very good but when I expected more it sudenly ended like unfinnished
La prima suono
Near misses on production but otherwise an excellent tune! Really enjoying it!
Reviews
No reviews available.
Make your vote and be the first to submit a review!