Remixer Of The Year Results
Here are the results of The Remixer of the year awards.. O2 and Machinae supremacy Both win 2 signed CD's courtesy Of Thomas Detert.
Oj Oscillation's name was picked out of the hat to win the voters FREE prize draw and also wins two free signed CD's. Thanks to everyone who has taken their time to vote, and all the nominees can count themselves winners, Well done!
---
Remixer Of The Year
1.
o2
27
2.
Machinae Supremacy
21
3.
LMan
14
4.
Thomas Detert
12
5.
Mahoney
10
6.
trace
9
7.
DHS
8
8.
Glyn R Brown
6
9.
Oj Oscillation
5
10.
Jeroen Breebaart
4
puffy64
Wobbler
11.
FeekZoid
3
FTC
Marcel Donne
THC Flatline
trauma
12.
Chris Abbott
2
Slumgud
13.
Boz
1
cz tunes
Instant Remedy
MistaDistah
Peter Mörck
Press Play On Tape
Tonka
Best Remix
1.
Giana Sisters - Machinae Supremacy
36
2.
Firelord - Krister Nielsen
5
Nemesis the Warlock - o2
Orchestral Synthasaurus Ninja - Feekzoid
WOTEF - trace
3.
Hammerfist Ode to my c64 - Makke
4
Infodroid Tune 1 - FTC
International Karate Hiyyyah! - LMan
Turrican 1 End Titles - Lman
Zak Mcommando Kracken - Puffy64
4.
Monty Hi-Score - Perhaps-a-Doobie
3
Sanxion Spandau Ballet - Mahoney
Space Harrier - Oj Oscillation
Special Agent 2001 - Jeroen Breebaart
Synth Sample 1 - Mixer
Terra Cresta Shrooms Mix - THC Flatline
5.
Aural Manouvers II - Wobbler
2
Beastie Boys - FTC
Cauldron II - The909sadist
Central Park Ingame - Puffy64
Last Ninja Palace Gardens Loader - Tonka
Wizball Hiscore (BIT3) - IrIdIuM
Zoids - o2
6.
Clystron Subtune 3 - DHS
1
Kinetix tune 2 - Jeroen Breebaart
Knucklebusters - Tomsk
Last Ninja Wilderness - Rob Steptoe
Maniac Mansion Ingame - Puffy64
Master Of Magic - Oj Oscillation
Platoon - CZ Tunes
Rambo - Glyn R Brown
That's The Way It Is - EgMan
Ultima V Moonglow Memories - DjLizard
Zyron - Spy vs Spy Ambient Antiques
Best Newcomer
1.
Machinae Supremacy
23
2.
FTC
14
3.
Krister Nielsen
8
4.
Mahoney
7
5.
Thomas Detert
6
Sonic Wanderer
6.
Rob Steptoe
4
Linus Akesson
7.
trauma
3
Tonka
Slumgud
egMan
DaTucker
909 Sadist
8.
Press Play On Tape
2
Perhaps-a-Doobie
MistaDistah
Emmanuel Forain
9.
Tomsk
1
Sonic Remedy
Mixer
Jeroen Breebaart
Best Scene CD
1.
Back In Time 3
34
2.
Nexus 6581
9
3.
Back In Time 2
6
4.
Back In Time 1
3
Merregnon
Most Innovative Remix
1.
Monty On The Run Highscore - Perhaps-a-doobie
8
2.
Giana Sisters - Machine Supremecy
7
3.
Forbidden Forest - trauma
6
Zoids - o2
4.
Kinetix - Jeroen Breebaart
5
Max Headroom - DHS
Special Agent 2001 - Jeroen Breebaart
5.
Great Giana Rastas - Makke
3
Hammerfist Ode To My C64 - Makke
Humphrey - FTC
Last Ninja 1+2 - Bart Klepka
Last Ninja 2001 - Glyn R Brown
One Man And His Piano - Linus Akesson
Something Stranger - FeekZoid
Spellbound Swing Mix - Mahoney
6.
Cauldron II - The909 Sadist
2
Comic Bakery - Octave Sounds
Delta - o2
Future Shock - Max Hall
Hell On Earth Spells Game Over - Makke
Infodroid Tune 1 - FTC
Paradise Fairlight - DHS
Shamus Case II - Mahoney
Thanatos - DJ Thumpheadache
7.
Arkanoid - Perhaps-a-Doobie
1
Black Lamp - Mahoney
Dixie Commando - Scalex
Last Ninja Tune 7 - Ferrara
My Last Ninja - SirFlo
Rambo,Bombo Impossible Mission - Mahoney
Sanxion Spandau Ballet - Mahoney
Terra Cresta Shrooms Mix - THC Flatline
Best c64 related Website
1.
Remix64
42
2.
remix.kwed.org
29
3.
Lemon64
12
4.
c64.com
9
5.
c64.org
7
6.
c64 Audio
6
7.
trace (http://hem.passagen.se/kwallden/prev/)
4
8.
Last Ninja Archives
3
9.
www.padua.org
2
Commodore Wire
c64.sk
c64.ch
10.
www.robhubbard.co.uk
1
HVSC
Goattracker (http://members.home.nl/problems/goats)
Computerbrains.com
c64.cc
Best Composer
1.
Rob Hubbard
53
2.
Martin Galway
22
3.
Ben Daglish
10
4.
Johannes Bjerregaard
7
5.
Jeroen Tel
6
6.
David Whittaker
4
thomas detert
7.
Fred Gray
3
FutureFreak
Guy Shavit/Sidchip Scratchers
Maniacs Of Noise
Matt Gray
Richard Joseph
TBB
8.
Chris Hülsbeck
2
Reyn Ouwehand
Soren Lund
9.
DRAX
1
KB
Kim Christensen
Markus Schneider
Tim Follin
Mike Alsop
Steve Barrett
---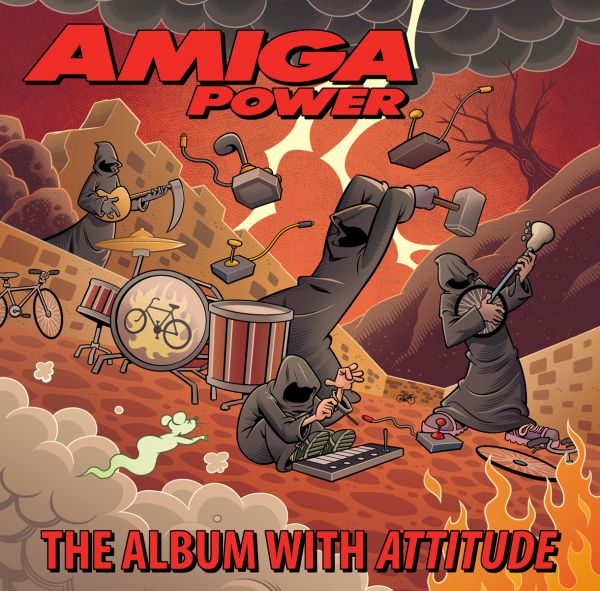 28/04/2019
Today is the final day of the kickstarter with massive talent involved, so if you want to participate, head there now.
The organiser Matt Smith wrote about it:
Splendidly, as we head into the last day of the campaign, we've hit the £19,000 mark and unlocked a new stretch goal. The deluxe liner notes booklet accompanying the AP album (in both its digital and physical incarnations) will now feature a full 100 pages of groovy stuff, including a special Complete Control section written by Rich Pelley, in which he'll endeavour to provide solutions to all your problems – game-related or otherwise. Hurrah!

How much more can we accomplish in the next few hours? With your help, we could yet hit another stretch goal! There's still time to support the project if you haven't already, and continuing to spread the word about it would be a massive help too. Just click the link above for more information!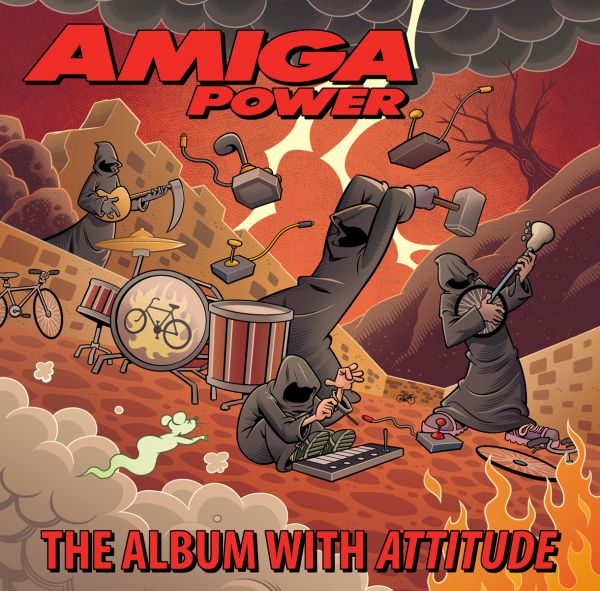 29/03/2019
A Kickstarter campaign to create a new album of Amiga game music remixes, all of them connected with classic '90s magazine Amiga Power, is now live.
Journalist and long-standing AP fan Matthew Smith – not the Manic Miner creator – is seeking funding to create Amiga Power: The Album With Attitude, a double-CD collection of more than 30 brand new remixes inspired by the magazine. The first disc will feature tracks based on tunes personally selected by former AP contributors, while the second disc will contain tracks based on games and demos given away on the mag's coverdisks over the years.
A whole host of star musicians are involved with the project, including Andrew Barnabas, Allister Brimble, Mike Clarke, Fabian Del Priore, Olof Gustafsson, Jogeir Liljedahl, Joi, Jon Hare, Chris Huelsbeck, Barry Leitch, Patrick Nevian, Jason Page, Instant Remedy, Matthias Steinwachs, Jeroen Tel and Tim Wright.
Among the tracks set for inclusion are pieces from Apidya, Banshee, Blob, Cannon Fodder, The Chaos Engine, Fantasy World Dizzy, Fire & Ice, Gloom, Harlequin, Hired Guns, Jetstrike, Lotus Turbo Challenge 2, No Second Prize, Pinball Fantasies, Sensible World Of Soccer, Shadow Fighter, Speedball 2 and Stardust, plus many more.
The album will also include a deluxe liner notes booklet containing more than 80 pages of facts, song lyrics, exclusive artwork and written contributions from the AP team.
If you want to grab a copy for yourself (in physical or digital form), along with a variety of bonus rewards, you can support the Kickstarter campaign here: apkickstarter.com

Submitted by Matt Smith
17/02/2019
Read all about it here.
Check this out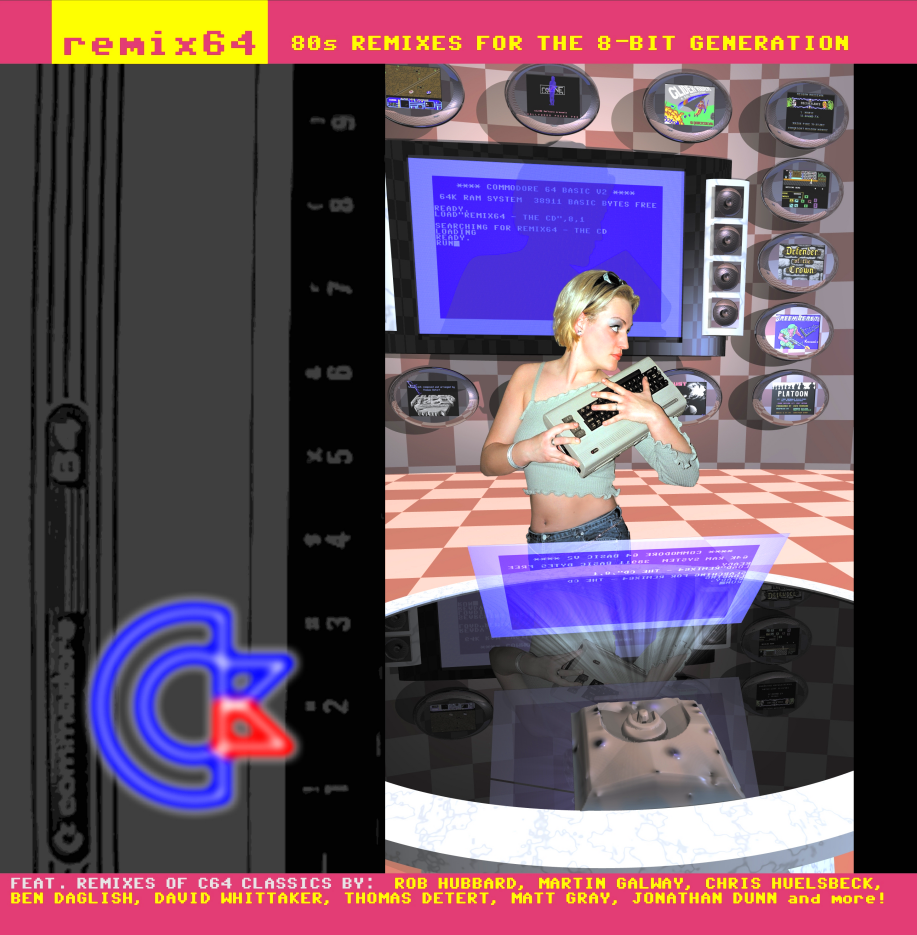 Remix64
by Various Artists
Remix64 is a CD with a unique concept: how would 80s stars interpret Commodore 64 remixes? Since they weren't particularly interested in telling us, some of the brightest talents in the remix scene were used to imagine. 80s lives! This CD also showcases the talents of the prolific David Whittaker. Highlights include incredibly uplifting versions of Whittaker's Glider Rider and Storm, an incredible Depeche-Mode-does-Nemesis from Wobbler and LMan, two Ocean Loaders from Jarre's unacknowledged lost son Marcel Donné, and a sensitive and poetic Art of Noise soundscape from Thomas Detert, covering his own ironically named C64 tune "Hyper Aggressive" The 80s live! Long live the 80s!
Listening Recommendation


Future Knight
Arranged by Markus Schneider
I am totally biased when writing this review.
future knight is by far my favorite sid of all time.
And markus also happens to be one of my favorite sid artists too (rolling ronny springs straight to mind) so hearing this again really does tickle the right places for me.

Where to start? the composition is near flawless but that is to be expected of mr shneider, the sound quality is superb, this is pretty much more of a cover than a remix, so if you liked the sid like i did hearing this is like getting the ps2 version of the game with an updated soundtrack.

Personally its probably my favorite remix on RKO, if you've never heard future knight then it might not be to your taste(it being a ben daglish tune)and he was never one to conform to the boundaries of what was around at the time.
Its well worth a listen if you enjoy orchestrated music.

Review by infamous
Random review


Pool Party (FN mix)
Arranged by Xenox
Unfortunately I can't really give this much credit points. Anyone can use SID2MIDI, but the important thing is (and is what is most noticeable) is when the arranger doesn't double-check the original SID to ensure that all the notes are correct. The program is a really good way to capture the notes, but it doesn't handle slides / glides at all, hence if a song uses them and the notes ain't corrected, it can ruin your cover.
Review by DJB
Latest Review


Crying in the Delta Wind
Arranged by Mutherpluckin' B
Awesome cover. Raw with a live feeling to it. Little mistakes here and there but it doesn't matter.
Review by Flidd