bloomer - Athena (Tigress Remix v2.0)
Track info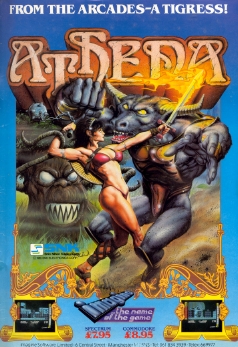 Arranged by:
Member:
Original SID:
Original composed by:
Also check out:
Duration:
6:50
Released:
03/01/2006
All-Time charts position:
3389
Score:

62%
Story
There was a fantastic 1987 magazine ad for Athena on the Commodore 64 and Spectrum with the headline:

FROM THE ARCADES - A TIGRESS!

... and it had this cool, super-serious fantasy art of an Amazonian Athena hacking the horn off some huge Minotaur thing. However, if you've played Athena, you'll know that the heroine is actually a cute little bobble-head of a sprite. Pretty typical C64 advertising, really.

Anyway, I always loved that Athena poster, and Galway's intro tune for the game, and my remix is inspired by the Athena world that they create together and suggest to me.

This track was originally composed sequenced in Computer Muzys, then later copied over as audio slabs to my then-new G5 for mixing in my also then-new Logic Express.

What was in my head as I composed this was the idea of Athena having serious adventures which run the gamut of moods, always musically developing from the anchor of the Galway riff. In chronological order in the song, there's the joyful element of adventuring, yelling, tribally drum marching (which kind of defines the percussion here), then there's the brooding by night and having sex with some probably disposable man-vassals, maybe on a slab of brimstone in the jungle, and finally a bunch of darkness.

Shouts
Technically good, though a bit too long for me
Bit like doing genetic experiments on moroder and kraftwerk to make one strange sounding beast.. This tune made no sense in the 1st place and its the same here too, only more melodic if thats possible.. Gets a high mark for being so damn different :D
I cant here anything wrong with the quality on it.. But it's just to boring to be good.. Sounds like you mixed some different styles together and it doesn't work
Hmm.. Sounds lot like OPL2/3/4 synth, but in way very confused...
Beginning was ok... But later on it loses a lot for my taste! Sorry...:-/
Kick-ass synth epic. I love it and there should be more tunes in that style.
Very nice IDM piece. The only complain is about the vocoded voice saying 'athena'. The rest works ok for me. The synth construction, the nostaligic atmosphere, the intelligent drum hits. Thumbs up!
The spoken "Athena" sample saves this one for me. Aside from that, it's only Average.
The first 4 mins is poor with simple midi presets, then the last 3 minutes is self indulgent droning with crappy percussion - its way too long as well.
Very nice and smooth
Reviews
No reviews available.
Make your vote and be the first to submit a review!