Duotris (Short Edit)
Track info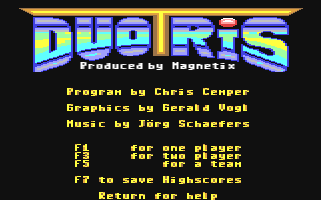 Arranged by:
Member:
Composed by:
Jörg Schäfers
Duration:
1:00
Released:
02/04/2006
All-Time charts position:
3958
Score:
47%
Shouts
Unfinished!!! What's there shows promise, but I would discourage anyone from publishing abandoned projects - quality is definitely preferred over quantity.
A bit thin on the ground and unfinished
Clean and crisp mixing, but the arrangement is a bit dull and empty. Plus that stuff about the unfinishedness...
Arrangement is okay but needs more work, it's a bit bland.
Sounds quite GM-ish and as previously said, quite unfinished.
Makes me more tired....
Somebody should cover the ingame tune, it's fantastic.
Sounds more like general midi file to me.
I like it, but I agree with Iman
Simply put cheap. 10 minute-effort.
Oehm... Nope! Sorry...:-/
Yeah, this really would have been something if it had not been the "short edit. " The ending is particularly abrupt, too.
A bit too much sequencer without any personality to it.
Boring but technically Ok.
Reviews
No reviews available.
Make your vote and be the first to submit a review!