Razmo
Member Profile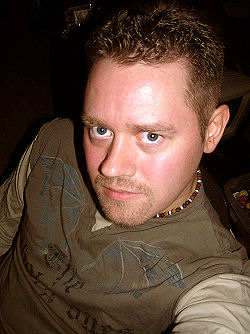 Handle:
Razmo
Contact:
Location:
Denmark
Born:
1970
Joined Remix64:
November 2003
Remix projects:
Razmo

Voting profile:
About me
Hi there! :O)

My name is Jess Donovan Skov-Nielsen, 36 years old male, and I'm from Denmark.

My life as a musician started in the mid 80s. I made a few SID tunes on the C64, though none ever was made public, and sadly, I do not have any of that stuff anymore.

I started composing for real on the AMIGA computer after having founded the demo-group KEFRENS with a friend in the beginning of the 90s.

When the AMIGA died I went on to the PC working mainly on SB AWE32. The use of the AWE32 stopped abruptly in 1997 when I won Creative's Open MIDI contest on the internet, winning an E-MU E4K sampler keyboard.

I'm now composing with a variety of different hardware synths, having become a helpless victim of gear-lust ;O)

Picture and stuff will be up later ... see ya!

Releases