Gerry the Germ (Tune 6)
Track info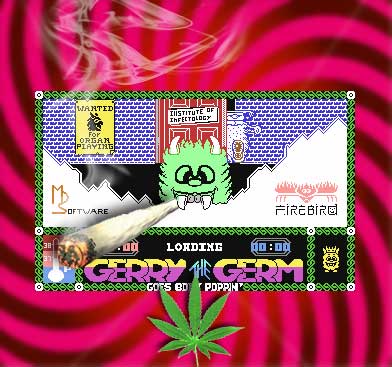 Arranged by:
Member:
Composed by:
Rob Hubbard
Duration:
3:36
Released:
29/06/2007
All-Time charts position:
999
Score:

82%
Story
After creating some very complex and time-consuming remixes (at least two of them still not released when I write this) I had the urge to do something "light and easy". In fact I managed to finish Gerry the Germ (Tune 6) in only 2 nights.
I never took those 7 Gerry the Germ songs too serous since they are meant to be "funny" music. But when I did this remix I realized that they're brilliant compositions, too, just like Robs high-end sids like Commando, Sanxion,...em....well, you know 'em.
Have fun and relax!
Vote distribution





Shouts
Solid enough, luscious playing and well produced, but the whole sum of parts just doesn't quite work on one level - almost like there's too much going on with too many different instruments. Maybe it's just me but it could do with some minor tweaks.
Brilliantly imaginative but maybe for once a bit too much so.
Lovely track, a bit Reynish too!
This is Gerry in the 70's. The "real" musician does is again, thanks Eike.
I expected more from Romeo Knight..
Noone can accuse Romeo for being without skill, it is very skillfull, if not quite hitting a home run with me, musically in its overall organic flow. I can't pinpoint it.
Never had much interest in the game or the original tune, but I like this incarnation of it, say's it all really nice work romeo
Romeo K added a very refreshing dopey sound to this already weird tune. It sounds original and it stands out, so great job dude.
Love the interpretation, but the instruments clash. It sounds like Middle East (zither) meets 50s sock hop (wurlitzer type organ), meets 80s hair band (killer guitar! ) Romeo Knight is still #1 in my book!!
Your remixes are still the best!! Love the sound and the idea...
Excellent blend of prog rock, 60s psychedelica and others with more modern elements. Very enjoyable, very organic.
Nice!
I like the organ and sitar parts, the only weak point of this remix is that awful 'oberheim' synthlead in the beginning. But overall it's a very good remix.. Thx eike..;-)
Hey, this is psychedelic!!! LSD-driven SID!
I don't like the panning of percussions, it's irritating and costs the orange one ;)
Darn! Why did I miss it. Great mood in this and beautiful sound of guitar. Romeo, You're truly master of this instrument :)
Frickin fantastic!!! :D
Reviews
No reviews available.
Make your vote and be the first to submit a review!