Pex Tufvesson (mahoney)
Member Profile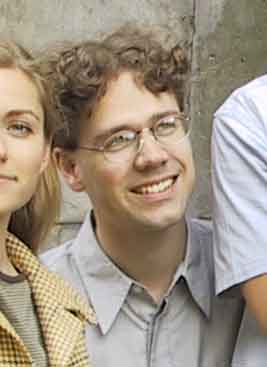 Handle:
mahoney
Real name:
Pex Tufvesson
Homepage:
Contact:
Location:
Sweden
Born:
1974
Joined Remix64:
November 2001
Remix projects:
Voting profile:
About me
If you're reading this, you've got a lot of spare time! (Well, if I'm writing this, that means I've also got a lot of spare time...) Instead of consuming, my suggestion is that you start creating. (Which I'm doing right now, but you're not - ha, got you!)
I make music. It's nice. If you have heard something I've done, that's even nicer. And it gets really nice if you happen to have the same open-minded approach to music that I've got. At least, I don't intend to please everybody with my music. And I'm sorry if I'm wasting your time with aural contamination, but your friend might like it. Or even laugh, which is even better.
From: puffy64
Date: Mon Jan 7, 2002 2:02 am
Subject: Stop "Stay a while..."
...
It turned out, that remixes are now just a mass product. So real quality seems not be wished anymore, I fear.
Have fun with those "original" repeating ones, I won't download any remix anymore until creativity like Mahoney shows has returned to our "scene"...
Puffy64
I make a lot of other things too. It's nice. Sometimes so nice that I don't make music, or even think about music. And it really gets nice when... oups! Mommy tells me not to reveal such thing on the net. Better not. --- I'M KIDDING! Got it? I'M FINISHED! Get it!
Have a noise night! / Pex "Mahoney" Tufvesson
p.s. Have more time to waste? Goto my
Mahoney
page!
I'm the webmaster of the official Tennis page of
Helena Ejeson
I'm webmaster of this
Mental träning
site, (it's in Swedish).
I'm also enjoying time with my a cappella group
Visa Röster
I'm webmaster of this
Ordspråk
proverb-site, (it's in Swedish).
Achievements
ROTY 2004
2 Most Innovative Remix (c64 or Amiga)
ROTY 2002
2 Best c64 Remix
3 Most Innovative Remix (c64 or Amiga)
1 Remixer Of The Year (c64 or Amiga)
Releases