Track info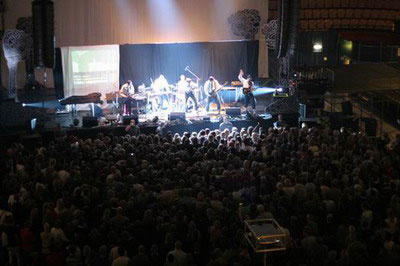 Arranged by:
Members:
Original SID:
Original composed by:
Also check out:
Duration:
4:19
Released:
28/05/2006
All-Time charts position:
1603
Score:

78%
Story
This is from one of our concerts in 2005. We very kindly asked by the Danish band Mew to be their first of two warm-up bands. They'eve earlier watched the live feed from The Gathering and found us amusing enough to remember when asked for possible warm-up bands. The other band became Blue Foundation.
So the whole idea of uploading the file was to let everybody hear how a crowd of 4000 people at a huge concert reacts to C64 music played live. Many people had already heard about us but a lot were completely unaware of a Commodore 64 computer - so they (we're mainly talking about 15 year old girls) didn't get the premise but certainly liked the music. To say the least it was a pleasure to be on-stage and watch the sea of people in front of us.
The set list was:
Commando (new arrangement)
Ghosts'n Goblins (new arrangement)
Arkanoid, Comic Bakery (new arrangement)
Warhawk
Phantom of the Asteroid
Das Gamer
Monkey Island


More pictures can be found
here
.
Yeah, we know the take isn't perfect and could be better, but bear in mind that the recording is directly from the sound mixer straight into a minidisc recorder.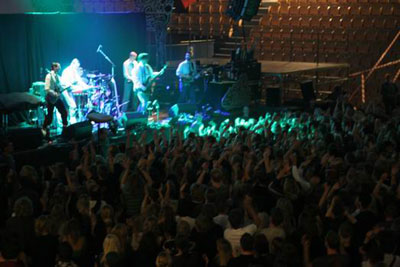 Shouts
Extra points for being live, though hearing live recordings doesn't do PPOT justice. They need to be seen in action.
Cant fault ppot no matter how hard you try.
Never been a big fan of ppot, but this rocks! Where is the live-video download?
Very good stuff.
Being a live performer too, I sadly have to say, there are too many obvious playing mistakes in there to be "good" still.
Sounds good, and that's all. Some annoying elements in there.
Ok, but doesnt really feel like very much effort was done to make it special
I like the studio version of this remix a lot better, there are just a bit too many mistakes in this live recording. Which is less annoying when you see the video of it.
It's great as always.. But since we've heard the exact same thing already from these guys.. This gave me a kind of "why upload to rko" there is one there already from the marvelous PPOT.. The quality is better but it's still the same song..
PPOT rock of course! :-D But what's the reason to upload another live-version from a track here they already have done quite some times live and also on their CD of course!? ;-) Guess that wouldn't have been necessary here now. It's no new track though!
OMG! They play almost 100% correct live. That must be the first time :D
Very well played, but live recordings don't work for me. I wish I would have seen it live!
Not the best from PPOT but good live work!
Great ppot
Not bad for a live version, but quite some flaws in it. More rehearsal required!
Great session
Great stuff!
Great
Reviews
No reviews available.
Make your vote and be the first to submit a review!