Remixer Of The Year Awards 2004
Here are the winners of this year's awards, congratulations to everyone! And remember... as always there are no losers on this page! 😊
- LMan
---
Remixer Of The Year 2004
| | | |
| --- | --- | --- |
| Rank | Title | Score |
| 1. | Marcel Donné | 77 |
| 2. | DHS | 62 |
| 3. | Juha Kaunisto | 59 |
| 4. | Glyn R. Brown | 58 |
| 5. | Lagerfeldt | 55 |
| 6. | Markus Schneider | 29 |
| 7. | Makke | 22 |
| 8. | o2 | 13 |
| 9. | Romeo Knight | 12 |
| 10. | N-JOY | 10 |
| 11. | Awesome-A | 9 |
| 12. | Infamous | 8 |
| | Jurek Raben | 8 |
| | Sonic Wanderer | 8 |
| 13. | Feekzoid | 7 |
| | LMan | 7 |
| | Mahoney | 7 |
| 14. | X-formZ | 6 |
| 15. | Stuck in D80s | 5 |
| 16. | Markus Schneider & Mahoney | 4 |
| | Razmo | 4 |
| | Wolfram Kresse | 4 |
| 17. | are be | 3 |
| | Cirdan | 3 |
| | Hazel | 3 |
| | Perhaps-a-Doobie | 3 |
---
Best Newcomer 2004
| | | |
| --- | --- | --- |
| Rank | Title | Score |
| 1. | Romeo Knight | 123 |
| 2. | Weebl | 42 |
| 3. | Chronblom | 40 |
| 4. | Awesome-A | 31 |
| 5. | Dafunk | 25 |
| 6. | The C64Mafia | 20 |
| 7. | DJ Skitz | 16 |
| 8. | Marc Girard | 11 |
| 9. | Visa Röster | 10 |
| 10. | Darren Lambourne | 9 |
| 11. | jgb | 8 |
| | Markus Schneider & Mahoney | 8 |
| 12. | madfiddler | 7 |
| 13. | Crisis | 5 |
| | deVilhoOD | 5 |
| 14. | Marcus Geelnard | 4 |
| 15. | Cyborg Jeff | 3 |
| | elwood-id | 3 |
| | Gecko Yamori | 3 |
| | Marsland | 3 |
| | Voidshaper | 3 |
---
Best c64 Remix 2004
| | | |
| --- | --- | --- |
| Rank | Title | Score |
| 1. | Glyn R. Brown - Rastan | 87 |
| 2. | Marcel Donné - Sweet | 54 |
| 3. | o2, Hanna Kappelin, Morpheus - Comic Bakery | 50 |
| 4. | DHS - Human Race | 32 |
| 5. | Juha Kaunisto - Calm | 30 |
| 6. | Juha Kaunisto - Zoids Revisited | 27 |
| 7. | Lagerfeldt - Angel | 22 |
| 8. | Razmo - Terra Cresta | 18 |
| 9. | N-JOY, Simona - Stormlord (Senecas Marble Pack) | 17 |
| 10. | Schneider, Mahoney, Elsa, Karin - Sweet | 13 |
| 11. | The C64Mafia - Forbidden Forest | 11 |
| 12. | Lagerfeldt - R-Type | 10 |
| 13. | Romeo Knight - Bombo | 7 |
| | Weebl - Delta+ | 7 |
| 14. | DHS, Makke - Giana Sisters | 6 |
| | DHS - Blowing | 6 |
| 15. | Jurek Raben - Lightforce | 5 |
| | Lagerfeldt - Sweet | 5 |
| | Markus Schneider - Deliverance, Gem-X | 5 |
| | Markus Siebold - Turrican Symphony | 5 |
| 16. | Feekzoid - Something Stranger | 4 |
| | Jurek Raben - Flying | 4 |
| | LMan - The Eidolon | 4 |
| | Markus Schneider - Golden Axe (Christmas Edition) | 4 |
| | Sonic Wanderer - Outer Space | 4 |
| 17. | deVilhoOD - Human Race | 3 |
| | Feekzoid - Archetype | 3 |
| | Infamous - Nemesis | 3 |
| | Makke - Arkanoid (SID No More Mix) | 3 |
| | Marcel Donné - One Magnetic Field and His Droid | 3 |
| | Saul Cross - Master Of Magic | 3 |
| | Wolfram Kresse - Ultima VI Intro | 3 |
---
Best Amiga Remix 2004
| | | |
| --- | --- | --- |
| Rank | Title | Score |
| 1. | FeekZoid - The Desert Dream (Part One) | 69 |
| 2. | Awesome-A - Turrican 2 (Main Title) | 17 |
| 3. | Awesome-A - Apidya (Level 1) | 7 |
| | Infamous - Cannon Fodder | 7 |
| | Makke - Lost Patrol | 7 |
| | SNeaR - Speedball 2 | 7 |
| 4. | ANTAI - Quik Silva (Orchestral Version) | 5 |
| 5. | Awesome-A - Apprentice (Main Title) | 4 |
| | Cirdan - Turrican 2 (World 5) | 4 |
| | DJ Skitz - Nine Fingers | 4 |
| 6. | Awesome-A - X-Out (Level Up Mix) | 3 |
| | Awesome-A - X-Out (New Highscore Mix) | 3 |
| | GeckoYamori - Zool (Elektrorock) | 3 |
| | Putzi - Stardust Memories (Extended Dub) | 3 |
| | Seveneleven - Seven Gates of Jambala (Title) | 3 |
| | X-formZ - The Desert Dream | 3 |
---
Most Innovative Remix 2004
| | | |
| --- | --- | --- |
| Rank | Title | Score |
| 1. | The C64Mafia - Forbidden Forest | 54 |
| 2. | Schneider, Mahoney, Elsa, Karin - Sweet | 40 |
| 3. | DHS, Makke - Giana Sisters (Keep da scene alive) | 27 |
| 4. | o2, Hanna Kappelin, Morpheus - Comic Bakery | 24 |
| 5. | DHS - The Human Race | 19 |
| 6. | Romeo Knight - Bombo | 18 |
| 7. | Juha Kaunisto - Calm | 17 |
| 8. | Chronblom - Wizball | 16 |
| 9. | N-JOY, Simona - Stormlord (Senecas Marble Pack) | 14 |
| 10. | Makke - Arkanoid (SID No More Mix) | 12 |
| 11. | Marcel Donné - Sweet | 11 |
| | Weebl - Delta+ | 11 |
| 12. | Glyn R. Brown - Rastan | 10 |
| | Markus Schneider - Deliverance, Gem-X | 10 |
| 13. | Razmo - Terra Cresta | 8 |
| | Romeo Knight - Body Slam | 8 |
| 14. | LMan & Larsec - Ghosts n Goblins | 7 |
| 15. | Chronblom - Bomb Jack | 5 |
| | Feekzoid - Something Stranger | 5 |
| | Infamous - Galway Is God, Arkanoid | 5 |
| | jgb - Delta | 5 |
| 16. | Jurek Raben - Flying | 4 |
| | Lagerfeldt - Angel | 4 |
| 17. | Awesome-A - Apprentice (Main Title) | 3 |
| | Feekzoid - The Desert Dream | 3 |
| | Jurek Raben - Lightforce | 3 |
| | Lagerfeldt - Sweet | 3 |
| | The Cheesemakers - Froehn (Gabber Mix) | 3 |
---
Best Scene CD
| | | |
| --- | --- | --- |
| Rank | Title | Score |
| 1. | Visa Röster - C64 Vocally | 58 |
| 2. | Remix64 v2 - Into Eternity | 27 |
| 3. | PPOT - Run/Stop Restore | 19 |
| 4. | Machinae Supremacy - Deus Ex Machinae | 14 |
| | The Z Show Gold Collection | 14 |
| 5. | Marcel Donné - Sidologie | 13 |
| 6. | Back In Time 3 | 9 |
| 7. | Project: Galway | 8 |
| 8. | Nexus 6581 | 5 |
| | Purple Motion Musicdisk | 5 |
| 9. | Instant Remedy | 3 |
---
Disclaimer: Some of the votes have been disqualified for being invalid (i.E. incomplete data, votes for newcomers who were not newcomers etc...). The results do not claim to be error-free.
17/02/2019
Read all about it here.
06/02/2019
You, the people, have spoken. The results are in, and will be presented in a live radio show:
Tune in to SLAY Radio on Sunday, 17th February 2019, 18:00 CET
The show will be hosted by Ziona, Slaygon and Boz, and probably surprise guests. From the SLAY Radio team: The time has come to celebrate and acknowledge the remixers' work in the C64 and Amiga community by presenting the yearly ROTY Awards, as voted by the users at www.remix64.com. This year it's SLAY Radio's turn to give out the awards and give you a run-down of what happened in 2018.
As it is tradition, SLAY Radio and SceneSat Radio band together for this special occasion to broadcast the show on both channels.
18/01/2019
The voting deadline for the Remixer of the Year Awards 2018 is approaching, so by all means go and vote for your favourite tunes and artists of 2018!
Check this out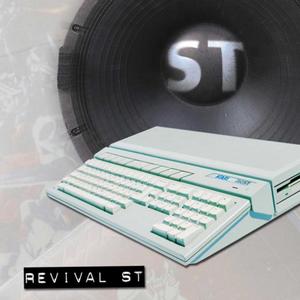 Revival ST
by Various Artists
Atari ST inspired remixes of some of the most famous tracks from the Atari ST era. Highlights include Rob Hubbard's Jupiter Probe, a swirling interpretation of Tim Follin's masterwork LED Storm, the classic Exolon and an fusion of ST sound and classic retro synths on "Dragon Flight". Composers featured include David Whittaker, Jochen Hippel and Rob Hubbard. CD produced by Neil Carr and Rafael Dyll.
Listening Recommendation


Falcon Patrol II
Arranged by Plough
This is so nice music its brings me back in time its even giving me tears in my eyes. Good job but i hoped for a 2-3 min longer =) But still love it.
Review by Bronyboy30
Random review


Last Ninja 2 Central Park (full direct cover-mix)
Arranged by Putzi
Well, this IS one of the millions Last Ninja 2 remixes. The tune is lifeless, the soul of the original vanished. Music is not just some notes and beats it is primiary an attempt to transfer feelings - Sascha was not able to do it. Next time he should choose the instruments more wisely and arrange with his heart not with his brain.

Review by eliot
Latest Review


Outrun Europe (levels)
Arranged by hermitsoft
Fast paced and, from a technical point of view, very well composed, "Outrun Europe (levels)" has a clear edge - it catches the bright pastels of the arcade version almost flawlessly! Needless to say, of all Outrun covers released up to this point, Hermisoft's take on Jeroen Tels original outruns all of them!
Review by exocytosis