Remixer Of The Year Awards 2004
Here are the winners of this year's awards, congratulations to everyone! And remember... as always there are no losers on this page! 😊
- LMan
---
Remixer Of The Year 2004
| | | |
| --- | --- | --- |
| Rank | Title | Score |
| 1. | Marcel Donné | 77 |
| 2. | DHS | 62 |
| 3. | Juha Kaunisto | 59 |
| 4. | Glyn R. Brown | 58 |
| 5. | Lagerfeldt | 55 |
| 6. | Markus Schneider | 29 |
| 7. | Makke | 22 |
| 8. | o2 | 13 |
| 9. | Romeo Knight | 12 |
| 10. | N-JOY | 10 |
| 11. | Awesome-A | 9 |
| 12. | Infamous | 8 |
| | Jurek Raben | 8 |
| | Sonic Wanderer | 8 |
| 13. | Feekzoid | 7 |
| | LMan | 7 |
| | Mahoney | 7 |
| 14. | X-formZ | 6 |
| 15. | Stuck in D80s | 5 |
| 16. | Markus Schneider & Mahoney | 4 |
| | Razmo | 4 |
| | Wolfram Kresse | 4 |
| 17. | are be | 3 |
| | Cirdan | 3 |
| | Hazel | 3 |
| | Perhaps-a-Doobie | 3 |
---
Best Newcomer 2004
| | | |
| --- | --- | --- |
| Rank | Title | Score |
| 1. | Romeo Knight | 123 |
| 2. | Weebl | 42 |
| 3. | Chronblom | 40 |
| 4. | Awesome-A | 31 |
| 5. | Dafunk | 25 |
| 6. | The C64Mafia | 20 |
| 7. | DJ Skitz | 16 |
| 8. | Marc Girard | 11 |
| 9. | Visa Röster | 10 |
| 10. | Darren Lambourne | 9 |
| 11. | jgb | 8 |
| | Markus Schneider & Mahoney | 8 |
| 12. | madfiddler | 7 |
| 13. | Crisis | 5 |
| | deVilhoOD | 5 |
| 14. | Marcus Geelnard | 4 |
| 15. | Cyborg Jeff | 3 |
| | elwood-id | 3 |
| | Gecko Yamori | 3 |
| | Marsland | 3 |
| | Voidshaper | 3 |
---
Best c64 Remix 2004
| | | |
| --- | --- | --- |
| Rank | Title | Score |
| 1. | Glyn R. Brown - Rastan | 87 |
| 2. | Marcel Donné - Sweet | 54 |
| 3. | o2, Hanna Kappelin, Morpheus - Comic Bakery | 50 |
| 4. | DHS - Human Race | 32 |
| 5. | Juha Kaunisto - Calm | 30 |
| 6. | Juha Kaunisto - Zoids Revisited | 27 |
| 7. | Lagerfeldt - Angel | 22 |
| 8. | Razmo - Terra Cresta | 18 |
| 9. | N-JOY, Simona - Stormlord (Senecas Marble Pack) | 17 |
| 10. | Schneider, Mahoney, Elsa, Karin - Sweet | 13 |
| 11. | The C64Mafia - Forbidden Forest | 11 |
| 12. | Lagerfeldt - R-Type | 10 |
| 13. | Romeo Knight - Bombo | 7 |
| | Weebl - Delta+ | 7 |
| 14. | DHS, Makke - Giana Sisters | 6 |
| | DHS - Blowing | 6 |
| 15. | Jurek Raben - Lightforce | 5 |
| | Lagerfeldt - Sweet | 5 |
| | Markus Schneider - Deliverance, Gem-X | 5 |
| | Markus Siebold - Turrican Symphony | 5 |
| 16. | Feekzoid - Something Stranger | 4 |
| | Jurek Raben - Flying | 4 |
| | LMan - The Eidolon | 4 |
| | Markus Schneider - Golden Axe (Christmas Edition) | 4 |
| | Sonic Wanderer - Outer Space | 4 |
| 17. | deVilhoOD - Human Race | 3 |
| | Feekzoid - Archetype | 3 |
| | Infamous - Nemesis | 3 |
| | Makke - Arkanoid (SID No More Mix) | 3 |
| | Marcel Donné - One Magnetic Field and His Droid | 3 |
| | Saul Cross - Master Of Magic | 3 |
| | Wolfram Kresse - Ultima VI Intro | 3 |
---
Best Amiga Remix 2004
| | | |
| --- | --- | --- |
| Rank | Title | Score |
| 1. | FeekZoid - The Desert Dream (Part One) | 69 |
| 2. | Awesome-A - Turrican 2 (Main Title) | 17 |
| 3. | Awesome-A - Apidya (Level 1) | 7 |
| | Infamous - Cannon Fodder | 7 |
| | Makke - Lost Patrol | 7 |
| | SNeaR - Speedball 2 | 7 |
| 4. | ANTAI - Quik Silva (Orchestral Version) | 5 |
| 5. | Awesome-A - Apprentice (Main Title) | 4 |
| | Cirdan - Turrican 2 (World 5) | 4 |
| | DJ Skitz - Nine Fingers | 4 |
| 6. | Awesome-A - X-Out (Level Up Mix) | 3 |
| | Awesome-A - X-Out (New Highscore Mix) | 3 |
| | GeckoYamori - Zool (Elektrorock) | 3 |
| | Putzi - Stardust Memories (Extended Dub) | 3 |
| | Seveneleven - Seven Gates of Jambala (Title) | 3 |
| | X-formZ - The Desert Dream | 3 |
---
Most Innovative Remix 2004
| | | |
| --- | --- | --- |
| Rank | Title | Score |
| 1. | The C64Mafia - Forbidden Forest | 54 |
| 2. | Schneider, Mahoney, Elsa, Karin - Sweet | 40 |
| 3. | DHS, Makke - Giana Sisters (Keep da scene alive) | 27 |
| 4. | o2, Hanna Kappelin, Morpheus - Comic Bakery | 24 |
| 5. | DHS - The Human Race | 19 |
| 6. | Romeo Knight - Bombo | 18 |
| 7. | Juha Kaunisto - Calm | 17 |
| 8. | Chronblom - Wizball | 16 |
| 9. | N-JOY, Simona - Stormlord (Senecas Marble Pack) | 14 |
| 10. | Makke - Arkanoid (SID No More Mix) | 12 |
| 11. | Marcel Donné - Sweet | 11 |
| | Weebl - Delta+ | 11 |
| 12. | Glyn R. Brown - Rastan | 10 |
| | Markus Schneider - Deliverance, Gem-X | 10 |
| 13. | Razmo - Terra Cresta | 8 |
| | Romeo Knight - Body Slam | 8 |
| 14. | LMan & Larsec - Ghosts n Goblins | 7 |
| 15. | Chronblom - Bomb Jack | 5 |
| | Feekzoid - Something Stranger | 5 |
| | Infamous - Galway Is God, Arkanoid | 5 |
| | jgb - Delta | 5 |
| 16. | Jurek Raben - Flying | 4 |
| | Lagerfeldt - Angel | 4 |
| 17. | Awesome-A - Apprentice (Main Title) | 3 |
| | Feekzoid - The Desert Dream | 3 |
| | Jurek Raben - Lightforce | 3 |
| | Lagerfeldt - Sweet | 3 |
| | The Cheesemakers - Froehn (Gabber Mix) | 3 |
---
Best Scene CD
| | | |
| --- | --- | --- |
| Rank | Title | Score |
| 1. | Visa Röster - C64 Vocally | 58 |
| 2. | Remix64 v2 - Into Eternity | 27 |
| 3. | PPOT - Run/Stop Restore | 19 |
| 4. | Machinae Supremacy - Deus Ex Machinae | 14 |
| | The Z Show Gold Collection | 14 |
| 5. | Marcel Donné - Sidologie | 13 |
| 6. | Back In Time 3 | 9 |
| 7. | Project: Galway | 8 |
| 8. | Nexus 6581 | 5 |
| | Purple Motion Musicdisk | 5 |
| 9. | Instant Remedy | 3 |
---
Disclaimer: Some of the votes have been disqualified for being invalid (i.E. incomplete data, votes for newcomers who were not newcomers etc...). The results do not claim to be error-free.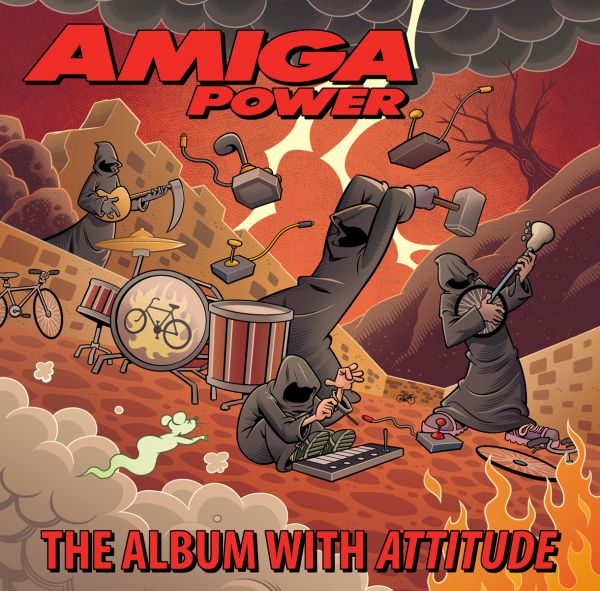 29/03/2019
A Kickstarter campaign to create a new album of Amiga game music remixes, all of them connected with classic '90s magazine Amiga Power, is now live.
Journalist and long-standing AP fan Matthew Smith – not the Manic Miner creator – is seeking funding to create Amiga Power: The Album With Attitude, a double-CD collection of more than 30 brand new remixes inspired by the magazine. The first disc will feature tracks based on tunes personally selected by former AP contributors, while the second disc will contain tracks based on games and demos given away on the mag's coverdisks over the years.
A whole host of star musicians are involved with the project, including Andrew Barnabas, Allister Brimble, Mike Clarke, Fabian Del Priore, Olof Gustafsson, Jogeir Liljedahl, Joi, Jon Hare, Chris Huelsbeck, Barry Leitch, Patrick Nevian, Jason Page, Instant Remedy, Matthias Steinwachs, Jeroen Tel and Tim Wright.
Among the tracks set for inclusion are pieces from Apidya, Banshee, Blob, Cannon Fodder, The Chaos Engine, Fantasy World Dizzy, Fire & Ice, Gloom, Harlequin, Hired Guns, Jetstrike, Lotus Turbo Challenge 2, No Second Prize, Pinball Fantasies, Sensible World Of Soccer, Shadow Fighter, Speedball 2 and Stardust, plus many more.
The album will also include a deluxe liner notes booklet containing more than 80 pages of facts, song lyrics, exclusive artwork and written contributions from the AP team.
If you want to grab a copy for yourself (in physical or digital form), along with a variety of bonus rewards, you can support the Kickstarter campaign here: apkickstarter.com

Submitted by Matt Smith
17/02/2019
Read all about it here.
06/02/2019
You, the people, have spoken. The results are in, and will be presented in a live radio show:
Tune in to SLAY Radio on Sunday, 17th February 2019, 18:00 CET
The show will be hosted by Ziona, Slaygon and Boz, and probably surprise guests. From the SLAY Radio team: The time has come to celebrate and acknowledge the remixers' work in the C64 and Amiga community by presenting the yearly ROTY Awards, as voted by the users at www.remix64.com. This year it's SLAY Radio's turn to give out the awards and give you a run-down of what happened in 2018.
As it is tradition, SLAY Radio and SceneSat Radio band together for this special occasion to broadcast the show on both channels.
Check this out
Back in Time 2
by Various Artists
Back in Time 1 broke a lot of ground, so the sequel aimed to raise the bar. The second album used some extraordinary talent such as Peter Connelly, Jogeir Liljedahl, Tonka and Danko to provide a much more varied soundscape than the first. Highlights include the beautiful orchestral version of "Forbidden Forest", the ultimate feel-good remix "Wizball 2000" and the spine-tingling "Galway is God" Rambo/Green Beret medley, as well as featuring a remastering of the first ever C64 Remix: Rob Hubbard's own "Thalamusik" from Zzap!64 issue 26. Round that off with an extended club mix of Comic Bakery and Fred Gray's own funky interpretation of his own Batman theme, and you've got a CD which still stands the test of time today.
Listening Recommendation


Green Beret (The Simple Mix)
Arranged by Mordi
Understated, laid back, sweet, lush.
Four words to start with describing this piece that I'm so glad Mordi decided to release after tantalising in the forum
Now I have a special soft spot for this original piece from Martin Galway, but that doesent mean I automatically love every arrangement, there arent many out there that I can confess to really liking.
This, by approaching the piece from a different angle - smoother, slower, less frenetic than the original - it appeals for different reasons.
Mordi's decision to stick with the wibbles/noteplex's in the tune is a good one, it anchors the piece to the original in a warm nostalgic way I appreciate. The melody is intact, with an added underlying harmony that reminds me a bit of the dual-melodies in the Wizball highscore. Added arpeggios give it an ethereal lift that think adds a lot too.
A relaxing nostalgic listening pleasure, thank you Mordi
Review by K8-bit
Random review


Thanatos (In Love Mix)
Arranged by DJ RETROGrade
If somebody can explain to me why this remix starts with what sounds like a
Japanese auctioneer speaking fast, please, let me know. Then it has a sort of
minimalistic oriental feel to it with exotic drums and that sitar-like lead.
Which would be okay with me, except that this goes on for over 5 minutes
without much variation - and it makes this remix boring. Cut this remix in
half or introduce some variations or add a climax or something.

Review by LaLa
Latest Review


Dutch Breeze/Robocop 3 (Progressive Uplift)
Arranged by Lagerfeldt
This has everything going for it. Beautiful beat, beautiful synth, effects fit in perfectly.. One of my all time favourites. No Emotion or energy? It's infectious! How can you not want to get your groove on listening to this?
Review by Ryrynz