Ketil Jensen (hazel)
Member Profile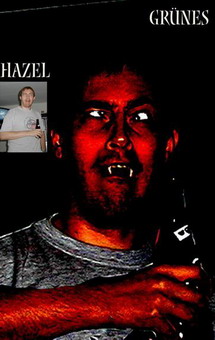 Handle:
hazel
Real name:
Ketil Jensen
Homepage:
Contact:
Location:
Denmark
Born:
1972
Joined Remix64:
March 2002
Remix projects:
Voting profile:
About me
Hi !!

Hazel is my name!! Well... It's my nickname!!😉
My real name is : Ketil Jensen and I was born in Denmark.. (Does that mean I'm danish??)😉

Anyway....

I got my first computer in 1984 when I was young.. And it was ofcause the best computer ever made.. The C O M M O D O R E 6 4.....

Oooh man!!! It was the best time of my life for sure... It's funny though how much a little breadbox with beep sounds can have such an big effect on a persons life.. The games, the music & demos from that time period is something I'll never forget.. I doubt that the newcomers to the computer scene today will have the same feelings when they get older...

Rob Hubbard, Martin Galway, Daglish, Maniacs of Noise.... I could just go on and on forever... There was so many great musicians on the C64..

Just before I changed my beloved C64 (shame on me) with a brand new Amiga 500, I began to play around with creating something with sounds in it.. I wouldn't really call it music!!😉 Soundmonitor was my choice at the time.. Later on I got my very own music program which a guy named Pet / Jewels (he is actually Drax' bigbrother!) made... But shortly after I got an Amiga and after a while I began using Protracker.. A program for GOD's!!
Today I'm mainly using Fruity Loops for my music... I've tried Reason & Logic but didn't understand a damn thing.. 😊 So Fruity it is...
Achievements
ROTY 2011
3 Best c64 Remix
1 Best Veteran (c64 or Amiga)
ROTY 2010
3 Best Veteran (c64 or Amiga)
ROTY 2009
2 Best Veteran (c64 or Amiga)
ROTY 2008
2 Best Veteran (c64 or Amiga)
ROTY 2007
2 Remixer Of The Year (c64 or Amiga)
Releases